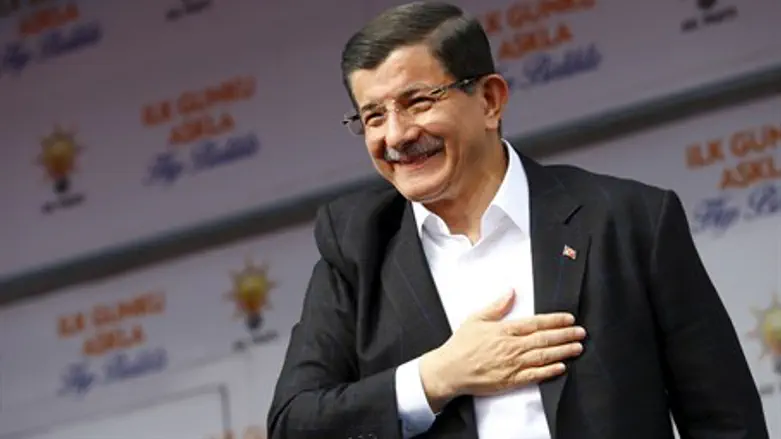 Turkish Prime Minister Ahmet Davutoglu
Reuters
Turkish Prime Minister Ahmet Davutoglu on Tuesday spoke about the rapprochement agreement talks with Israel during a parliamentary group meeting, and said the goal is to "benefit" Palestinian Arabs.
"No one is more sensitive on Gaza, Palestine, than us," he said, according to the Turkish Hurriyet Daily News.
"Our sole goal is to bring solutions to the problems of our Palestinian brothers. This is the main objective behind our talks for the normalization of our relationship with Israel."
"We will not take any steps that would sadden Palestine and Gaza but we won't hesitate to take every step that would be to their benefits, no matter what they say," Davutoglu said. The report noted how he spoke with Hamas politburo chief Khaled Mashaal about the deal over the weekend.
The Turkish Prime Minister also spoke about the infamous 2010 Mavi Marmara incident that led to the breakdown of ties. In the incident, IDF soldiers were forced to board the Turkish ship, which ignored repeated warnings to stop its attempt to breach the maritime blockade on Gaza - a blockade that is legal under international law.
The soldiers were brutally attacked by IHH Islamist extremists on board wielding knives and metal bars, and had no choice but to open fire, killing ten of the IHH members on board. After an investigation, Israeli authorities discovered the vessel to be carrying no humanitarian aid, despite the flotilla's claims that it was on a "humanitarian" mission.
Davutoglu on Tuesday gloated over the way US President Barack Obama pressured Prime Minister Binyamin Netanyahu back in 2013 into apologizing for how the wounded IDF soldiers were forced to defend their lives from the extremists.
"Turkey has become the first state to ever enjoy the honor of making Israel formally apologize over such an incident. We have not given concessions to anybody while defending our rights," said the Turkish prime minister.
"Ignore speculations. Our position will not change," he concluded, apparently throwing his weight behind Turkish demands to lift the naval blockade on Gaza that is meant to prevent an influx of weapons.
Senior Israeli security sources earlier on Tuesday said they doubt Turkey is serious about rapprochement, noting on the crisis in ties with Russia that apparently prompted the desire for natural gas trade with Israel.
They also noted that Ankara still is hosting Hamas terrorists, including those who were expelled in the 2011 Gilad Shalit deal that saw 1,027 terrorists go free. The terrorists being allowed to stay in Turkey include those who are involved in planning terror attacks against Israeli citizens inside the Jewish state.