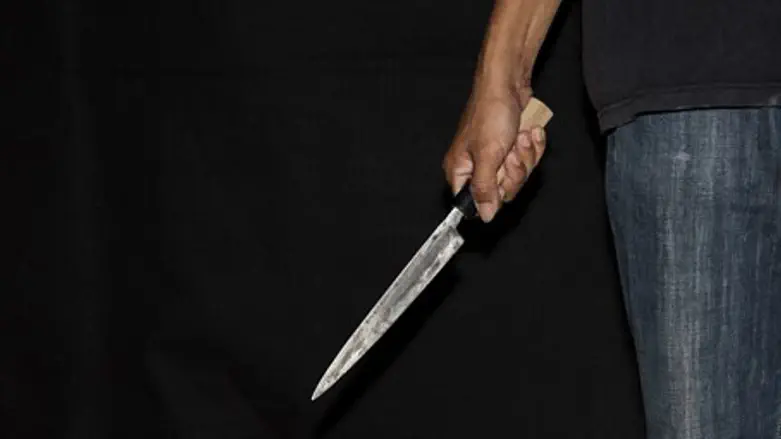 Knifeman (illustrative)
iStock
Oshrat Levy, whose husband Moshe was critically wounded in the stabbing attack in the coastal city of Ra'anana on Saturday afternoon, spoke on Tuesday about the harrowing incident.
The Arab terrorist approached the couple as they sat in a park, seriously wounding Moshe and lightly wounding Oshrat, before trying to enter a full synagogue and being locked out, and then entering the apartment of local resident Dikla Dvir who bravely managed to push him out while sustaining light wounds. The terrorist was caught by police outside their home.
"I saw the terrorist when we were in the park," said Oshrat Levy, reenacting for Channel 10 on Tuesday the incident in which the couple with their five-year-old son came under attack.
"He had his arms crossed and was looking at my husband, and then in a matter of seconds he took out a knife and stabbed him in the back, and he screamed 'aii!,' and my husband fought him like in a movie," recalled the horrified wife.
Oshrat noted, "I didn't give up. He didn't want me, instead he wanted my husband because he had a kippah on his head. And I said, 'I'm not leaving this area, I have to help my husband.'"
"I fought and got close to him, I was adjacent to him, I tried to knock the knife out of his hand, it didn't work. It was like we were playing chase, he stabbed him in his hands as my husband protected himself with his hands, he folded them so that he wouldn't attack his stomach, then he stabbed him in the hands, and then in the legs."
"In short, we struggled with him until he left my husband. I ran and he ran after me, and stabbed me in the hand. I screamed awful shouts: 'terrorist! I'm stabbed!'"
"Just me, my husband, and the terrorist"
But according to Levy, bystanders who were present at the park left the scene and fled the terrorist instead of trying to aid the couple as they came under attack.
"It's a disgrace, people just fled. No one was there, just me, my husband and the terrorist. I tried to pick up a rock or board, there was nothing. Everyone just left, the terrorist was in shock, he looked at me and in the end ran towards the synagogue, where he started to stab two people, and then I understood that someone had a weapon, they shouted to him 'get down' and he neutralized him by shooting him in the leg."
Levy noted how her 5-year-old son was present when they were attacked in the park.
"He saw what happened and said 'they stabbed my mom,' and he ran, and to this day he doesn't stop saying it," said the concerned mother.
"He ran and took cover, and then I ran, 'my son, where is my son? Where is he? Help me find him!,'" she recalled shouting. "I ran towards the multi-storey buildings. My husband also saw that the terrorist went and left him, called for someone to help him, and just collapsed."
"He bled a lot, and I was shouting 'help me, a terrorist stabbed me, my children are here.' But everyone in the multi-storey buildings was staring like in a movie, no one came out."
Noting how her husband Moshe was released from the emergency medical ward to the surgical ward, she added, "God returned his life to him as a gift."