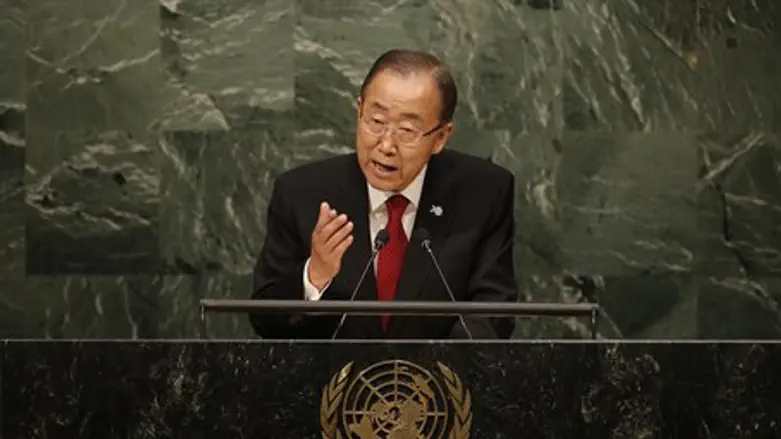 UN Secretary-General Ban Ki-moon
Reuters
Following a request from Israel's UN ambassador, Danny Danon, UN Secretary-General Ban Ki-moon on Monday condemned the rocket fire from Lebanon on northern Israel a day earlier.
In a statement, Ban said he is "greatly concerned over yesterday's firing of rockets within UNIFIL's area of operations from the area of Al-Hinniyah, in the vicinity of Tyr, towards Israel, which is a serious violation of resolution 1701 (2006)."
"The Secretary-General notes the retaliatory mortar attacks by the Israel Defense Forces in Lebanon in the area of Zibqin. UNIFIL is investigating the circumstances of the incident in cooperation with the Lebanese Armed Forces and the Israel Defense Forces," said the statement.
The statement also said that Ban "condemns any and all violations of resolution 1701 (2006) and urges all concerned to exercise maximum restraint and cooperate with UNIFIL in order to prevent an escalation. The parties must fully adhere to resolution 1701 (2006) and respect the cessation of hostilities."
"The United Nations is committed to continuing to work with the parties to ensure that the calm that has prevailed in southern Lebanon continues to be sustained," stressed the UN chief.
On Sunday, hours after the assassination of terrorist Samir Kuntar in Syria which was blamed on Israel, three rockets fired from Lebanon exploded in northern Israel, causing no physical injuries or damages.
The IDF responded with airstrikes on the source of the rocket fire in southern Lebanon.
Lebanese media reported later that the rocket attack was claimed by the Popular Front for the Liberation of Palestine-General Command (PFLP-GC), a Lebanon-based offshoot of the Popular Front for the Liberation of Palestine (PFLP).