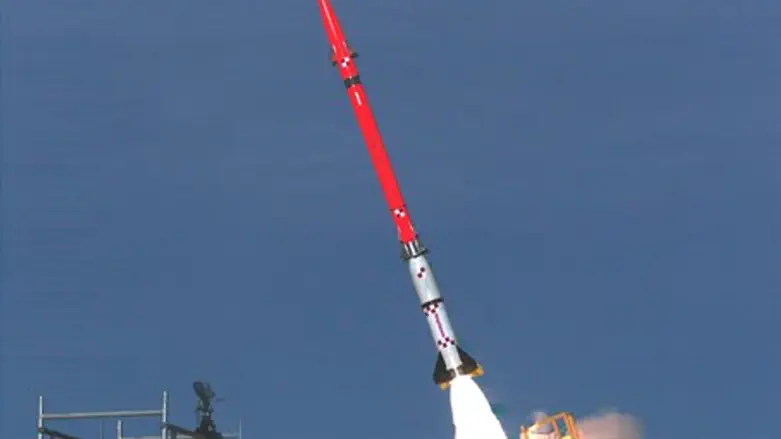 "David's Sling" in action
Flash 90
The Defense Ministry's Homa unit and the US Agency for Missile Defense (MDA) successfully completed a series of tests on the Magic Wand (David's Sling) missile defense system Monday morning. 
The Magic Wand, which has also been called David's Sling, is believed to be primarily intended against the threat of missile attack by Hezbollah, which is thought to have at least 100,000 missiles.
The success of the experiment is the last milestone in the development of the system, prior to its deployment as part of the Israeli Air Force (IAF), and will now be operational as soon as 2016. 
David's Sling is designed to fill the gap between the longer-range Arrow missile defense system and the shorter-range Iron Dome interceptor. It was developed by Israel's Rafael Advanced Defense Systems and US company Raytheon. The system's MMR radar was developed by Elta, a subsidiary of the Israel Aerospace Industries. The command and control system, Shaked Zahav, was developed by Elisra, which is a part of Elbit Systems.
Shlomo S., main Magic Wand project coordinator for Refael, stated Monday that the tests examined the system's efficiency in a variety of scenarios. Each time, the system's MMR radar detected and intercepted the target. 
The system, which is designed to intercept medium range missiles from nearby Gaza, Syria, and Lebanon, was tested in November 2013 and in April of this year with great success; it is part of a large-scale multi-layered missile defense project which includes the Arrow 1, 2, and 3 systems and the Iron Dome missile defense systems. 
The Arrow missile defense system is designed to intercept long-range surface-to-surface ICBM (Inter-Continental Ballistic Missiles) of the type being developed by Iran; several tests of the Arrow since 2012 have failed, but development has continued in light of the Iranian nuclear threat.