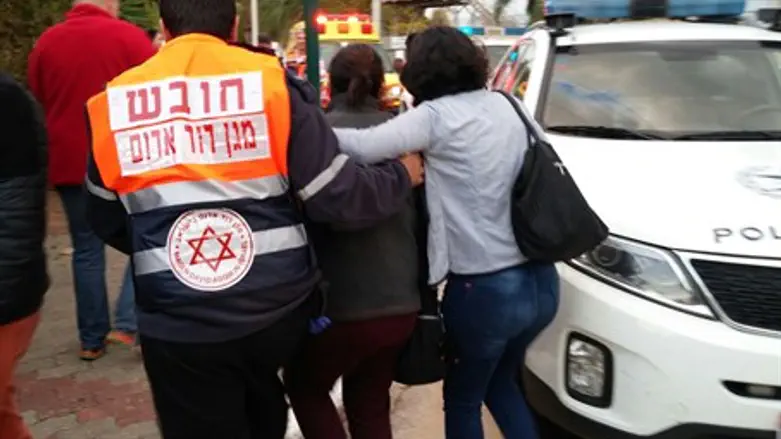 Site of Ra'anana stabbing
Magen David Adom
Eyewitnesses to today's (Saturday) terror attack in Ra'anana say that the terrorist attempted to enter a synagogue that was full of worshipers.
"I saw a young man go to a bench where two people were sitting and stab the man. We didn't understand what was happening because he didn't shout. I yelled at him, along with others, and he escaped towards a synagogue. After that I didn't see what happened," said one.
A woman who was near the synagogue's entrance says that "the terrorist stabbed a woman and a man, a husband and wife, and ran towards the synagogue. He tried to enter, while people inside were praying the Shemona Esrei [main portion of the afternoon prayer, said silently while standing]. Luckily they closed the two entrances and he did not succeed. He began to run away and stabbed someone in the hand. I saw someone with a gun running after him."
The armed man told police that he was afraid to shoot because there was a playground nearby that was full of children.
Early investigations suggest that the terrorist stabbed a man in the stomach, then wounded the man's wife and ran away. He later managed to wound another two people. Police searched the area and arrested the terrorist hiding in the courtyard of a building, near the scene of the attack.
It is believed that the terrorist entered a nearby home and nearly massacred the family.