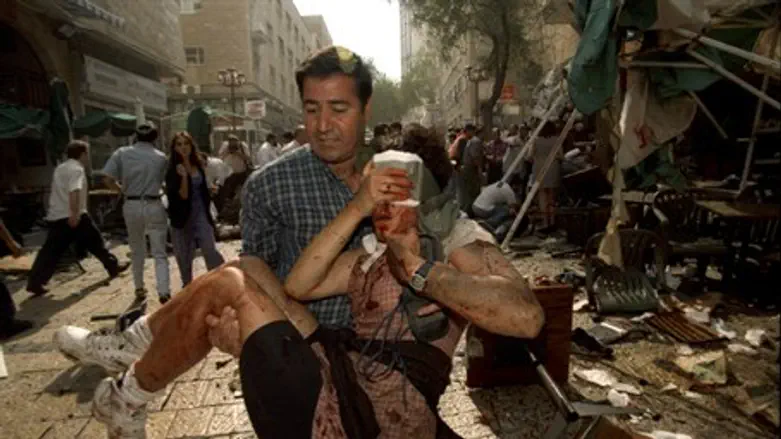 Triple suicide bombing in Ben Yehuda, Jerusalem, 1997 (illustration)
Flash 90
A senior Palestinian Authority (PA) source on Friday revealed to Israeli media that Hamas is changing its tactics in Judea and Samaria, and has given new orders to launch suicide bombings against Jewish targets.
The source told Walla! News that the bombings are to be along the lines of the horrific assaults recorded in the 2000-2005 terror war that came to be known alternately as the Second Intifada or the Oslo War.
According to the source, information extracted in investigation from Hamas operatives recently arrested in Judea and Samaria by PA Security Forces led to the conclusion that senior Hamas officials in Gaza and abroad have given new orders to Hamas terrorists in the region.
Those orders call to escalate the role of the Hamas terrorists in the current terror wave, from encouraging stabbing attacks and riots to actively launching suicide bombings.
The source claimed Hamas will weaken the PA if it succeeds in its plans, and that doing so is, in fact, a major part of its goal.
Indications that Hamas is planning suicide bombings have been on the rise of late; a radio station in the Hevron region that is a Hamas stronghold late last month was shuttered by the IDF after playing songs explicitly calling for suicide bombings.
In late October, it was reported that Hamas leaders in the Shechem (Nablus) region had ordered suicide bombings, with PA Security Forces revealing they had thwarted a six-man bombing cell. Shortly afterwards, a senior Hamas leader, Hassan Yousef, was arrested by the IDF near Ramallah, with experts revealing the move was meant to prevent suicide bombings.
There has, in fact, already been an attempted suicide bombing among the knife, car and shooting attacks blighting Israel of late.
Back in early October, a female Arab terrorist was stopped near a checkpoint outside Ma'ale Adumim to the east of Jerusalem and detonated a bomb - she was wounded but caused no harm to her intended victims. Her car contained other bombs that she apparently intended to smuggle into Jerusalem to enable more attacks.
Hamas calls for suicide bombings are not new, as the group back in August - before the current terror wave - likewise demanded suicide attacks.
However, Hamas is not alone in such calls - the Al-Aqsa Martyrs' Brigades terrorist organization of PA Chairman Mahmoud Abbas's Fatah faction called for suicide bombings in late October, saying such attacks are "the top of our priorities."