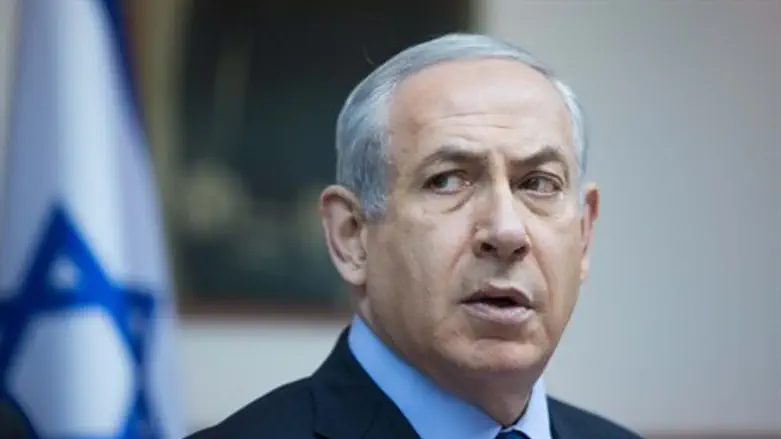 Binyamin Netanyahu
Yonatan Sindel/Flash 90
Prime Minister Binyamin Netanyahu signed Israel's multibillion dollar gas deal with US energy giant Noble Energy Thursday morning, following months of intense debate.
Netanyahu gave his signature to the deal at the conclusion of a special ceremony at the Ne'ot Hovav industrial zone in southern Israel, following speeches by Energy Minister Yuval Steinitz (Likud) and Manufacturers Association of Israel President Shraga Brosh.
Both Steinitz and Brosh lauded the deal, saying it would make energy prices cheaper for Israelis.
Netanyahu himself praised the long-fought deal as a "victory over populism," referring to opponents who fought a bitter campaign against what they said was the government's stamp of approval to a new monopoly.
The prime minister repeated his previous assertion that Israel needed to expedite the process to enable the country to benefit from an unprecedented deposit of natural gas worth billions of dollars, and which would make Israel "energy independent."
"The gas was given to us as a gift from God," he said prior to signing the deal. "He gave us huge gas reserves and turned us into an important force on the international front."
While the political battle is over, the deal is still set to face challenges in the High Court.
Netanyahu has pushed hard for the framework deal setting out parameters for developing natural gas resources offshore with a consortium that includes US firm Noble Energy.
He has faced strong opposition from political rivals and other critics who say the agreement amounts to a giveaway to the energy companies, with thousands having staged street protests against it.
 "The deal is important for the economy, security and foreign relations," Netanyahu said before the signing.
Israel has faced increased pressure to move quickly after neighbouring Egypt's recent discovery of what was described as the "largest ever" gas field in the Mediterranean.
The Jewish state will seek to export a portion of the gas to other countries in the region.  
The Israeli cabinet approved the agreement in August, but a parliamentary committee this week voted against allowing it to bypass usual antitrust oversight, though the vote was non-binding.
Israel's monopolies commission has warned the agreement could give Noble and its Israeli partner Delek an effective monopoly.
To sidestep its objections, Netanyahu wants to use an obscure clause allowing the deal to be pushed through by order of the economy minister - a portfolio held by him since Shas leader Aryeh Deri's resignation, along with foreign affairs and other posts. He has sought to do so in part by citing security concerns, saying Israel must increase its sources of energy to prevent supplies being cut by attacks.  
Israel has been trying to extract offshore gas since the discovery of the Tamar and Leviathan fields in 2009 and 2010.  
While extraction has begun in Tamar, the far larger Leviathan has been hit by a series of delays.  
The size of the Leviathan field is estimated at 18.9 trillion cubic feet (535 billion cubic metres, or bcm) of natural gas, along with 34.1 million barrels of condensate.
Noble and Delek also control the Tamar field, which holds 250 bcm of natural gas, and lies 80 kilometres (40 nautical miles) west of the northern Israeli port city of Haifa.
AFP contributed to this report.