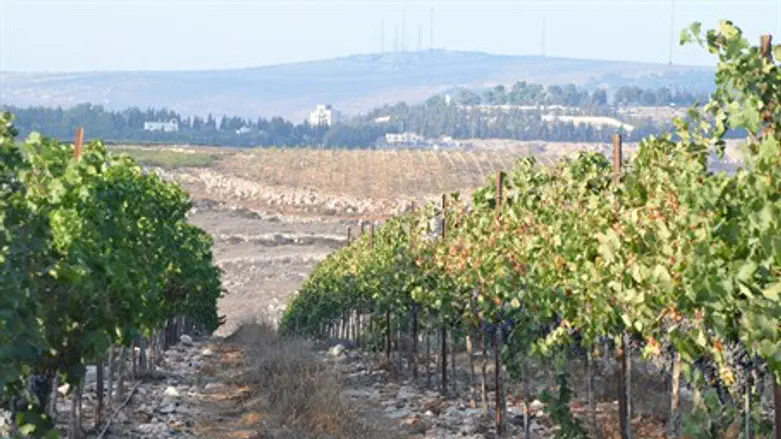 Tura Winery's vineyard
Samaria Regional Council
Vered and Erez Ben-Saadon, owners of Tura Winery located in the village of Rehelim near Ariel in Samaria, are being boycotted - by the Israeli-made "Guide to Israeli Wine."
Recently the guide refused to include the flagship wine of the winery in its pages, reports Channel 2 on Tuesday night, in a shocking incident that comes amid talk of a European boycott.
Tura Winery's fine wines have won countless prizes in Israel and abroad over the years, but it would appear from the incident that precisely in Israel there are those who would boycott Israeli wines based on where they are produced.
Vered Ben-Saadon contacted the editors of "The New Guide to Israeli Wine," which is in effect the go-to source for fans of Israeli wine and which includes information about more than 90 wines from 40 different wineries. Ben Saadon presented evidence testifying to the high quality of her wines.
However, in speaking with one of the editors she was told that her wines would not appear in the guide - for political reasons.
"These are excellent wines and it's a great region and you are doing wonderful work and all, but you know, with everything going on - it's put us in this problematic situation," the editor told her.
Editors of the guide inexplicably said that they do not sample wines grown over the 1949 Armistice lines, but they nevertheless include in their guide wines from the Golan Heights - which also is located over the lines and like Judea and Samaria was liberated in the 1967 Six Day War.
The decision is ironic, given that the new controversial EU move to label Jewish products targets not only Judea, Samaria and eastern Jerusalem but also the Golan Heights.
The editors of the book are Gal Zohar, a wine expert, and Yair Gat, the wine critic for Israel Hayom.
Gat told Channel 2 in response to the report that the guide is "a personal project, which is not funded by anyone, and it is our full right to choose who will take part in it and who won't take part in it, and we chose not to include wines from the territories."
"Why? Because we think that that isn't right."