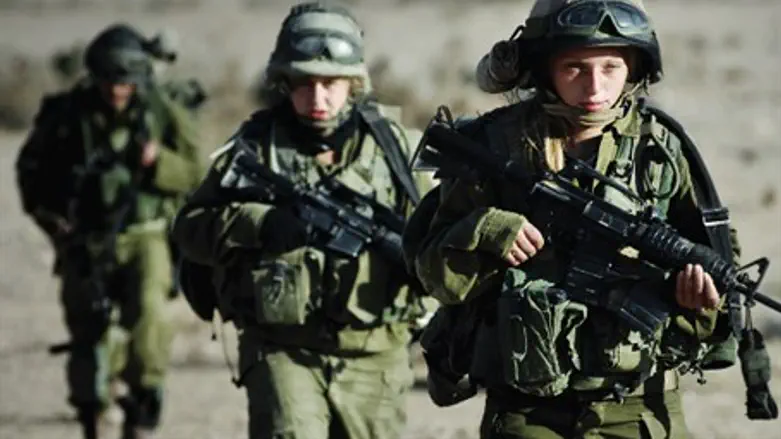 Female combat soldiers (illustration)
IDF Spokesman's Unit
A soldier in an elite IDF unit has come forth with testimony about how the IDF may have paid with lives because of adherence to feminist dogma.
The story is told by Avishai Grinzeig, a doctoral student at Bar Ilan University and occasional contributor to Arutz Sheva, who is a friend of the soldier's. The soldier, who wishes to remain anonymous, told Grinzeig the story a year ago, but did not want it published. He gave the green light for publication after he heard that the Pentagon had decided to allow women into all military units, out of concern that the IDF would follow suit.
"A female paramedic was assigned to our unit," the soldier told Grinzeig. "All in all, three female paramedics went deep into Gaza during Operation Protective Edge, and they were scattered in different units. The weight that a paramedic has to carry in battle is very heavy, and since we understood that she could not carry such a heavy weight, we – the combat soldiers – distributed her equipment between us.
"When our force came under heavy fire, and we had to take care of the numerous wounded, I suddenly remembered that we now have to start searching for the first aid equipment that had been distributed among the different warriors.
"Time, in this case, was not worth money – it was worth life. Of course, the fact that the warriors had become less efficient, since they had to carry cumbersome equipment that did not belong to them on their backs, is very problematic and it harmed the ability of the warriors to function."
The soldier gave another example of feminism-induced problems.
"When we have to relieve ourselves, we do fine…but when a female soldier next to you suddenly has to go, what do you do?! Instead of focusing on securing the sector and on combat, we found ourselves having to improvise a toilet for a female paramedic in the middle of combat (!) on a Gaza street."
After the operation, he said, the Channel 2 website featured an extremely favorable report about the three female paramedics.
"I read the report and was sorry," he recalled. "It is sad that the media praises and inflates a phenomenon of inserting female paramedics into Gaza, even though it comes at the expense of the unit's combat effectiveness, and the safety of the soldiers.
"Why must I risk my life so that a lady can realize the ideals she believes in? If there was a lack in male paramedics, I would understand. But when the purpose is pure feminism, I am not willing to die on the altar of feminism. My wife does not need to turn into a young widow because another woman decided that her ideal overpowers the value of human life."