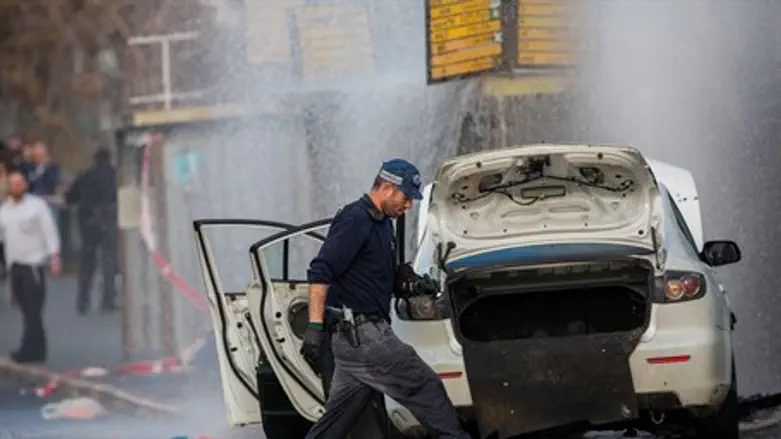 Car attack at Jerusalem's Chords Bridge
Yonatan Sindel/Flash 90
Of the 14 victims in the car ramming attack at a bus station adjacent to Jerusalem's iconic Chords Bridge on Monday, a 15--months-old baby was seriously wounded.
A spokesperson for Hadassah Ein Kerem Hospital announced that the baby is suffering from serious wounds to his leg. He currently is anesthetized and has been put to sleep, and will immediately be given surgery on his leg.
The baby's mother is also being treated at the same hospital, having received light wounds in the attack.
At Shaare Tzedek Hospital where the baby was first hospitalized he was classified as moderately wounded, but he was then transferred to Hadassah Ein Kerem after it was found that his situation had deteriorated.
Dr. Ofer Merin, head of the trauma unit at Shaare Tzedek Hospital, said "the infant aged around a year-and-a-half has a serious wound to his leg. We decided to transfer him to Hadassah Ein Kerem to save his leg in an attempt at micro-surgery treatment."
Binyamin Sitboun, the father of the infant, was quoted by Yedioth Aharonoth on his way to the hospital as saying, "my child will be okay with God's help, his leg was almost cut off."
"I wasn't at the site of the incident, they contacted me to tell me that he was hurt and I went flying over immediately."
In the attack, after crashing his car into a fire hydrant and rupturing it, the 21-year-old Arab terrorist from Jerusalem's Beit Hanina neighborhood emerged from his car armed with an ax, but was shot dead before he managed to cause any further casualties.
Among the wounded is a 65-year-old woman in moderate condition, and another victim was likewise moderately wounded. Eight more were lightly wounded, and the rest suffered shock.