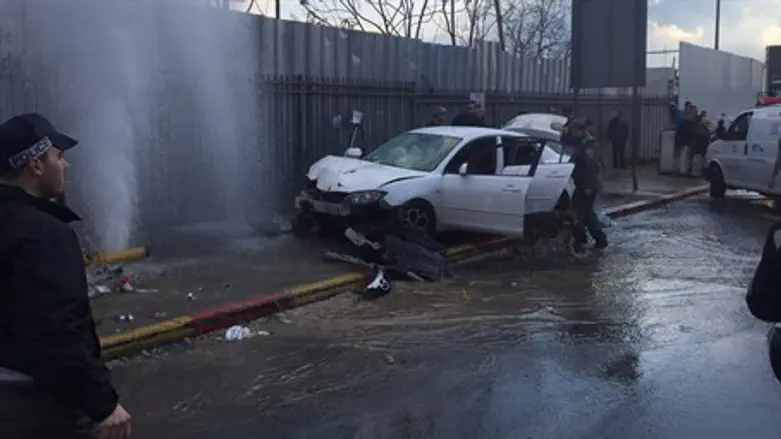 Site of the attack
Israel Police
14 people have been injured in a car-ramming attack in central Jerusalem, close to the capital's iconic Chords Bridge.
Six of the wounded victims were evacuated to Shaarei Tzedek hospital, two of them in moderate condition - a 65-year-old woman and a one-and-a-half-year-old toddler. The remainder were hospitalized with light injuries.
Five others were evacuated to Hadassah Ein Kerem hospital with light injuries.
The terrorist was eliminated at the scene.
Credit: Oren Rand
Witnesses say the attack began when an Arab driver arrived at Herzl Boulevard, towards the entrance to the capital, in a private vehicle just before 3 p.m.
Without warning, the terrorist then mounted the sidewalk and plowed his car into a group of civilians waiting at a bus stop.
He was apparently shot dead after emerging from his car - which crashed into a fire hydrant - armed with an ax, and attempted to attack onlookers.
Video shows aftermath of attack:
credit: ערוץ 7
זירת הפיגוע
credit: חזקי עזרא
הגרזן שנמצא אצל המחבל
credit: Israel Police
CEO of the United Hatzalah emergency service Moshe Teitelbaum was at the scene.
"When I arrived at the scene I provided emergency first aid treatment, together with volunteers from United Hatzalah's motorcycle unit, to a child and his mother, and to a number of pedestrians who were wounded by a car.
He described hearing gunshots - presumably from security forces shooting the terrorist.
All the victims were conscious, and none appear to be in life-threatening condition, he added.