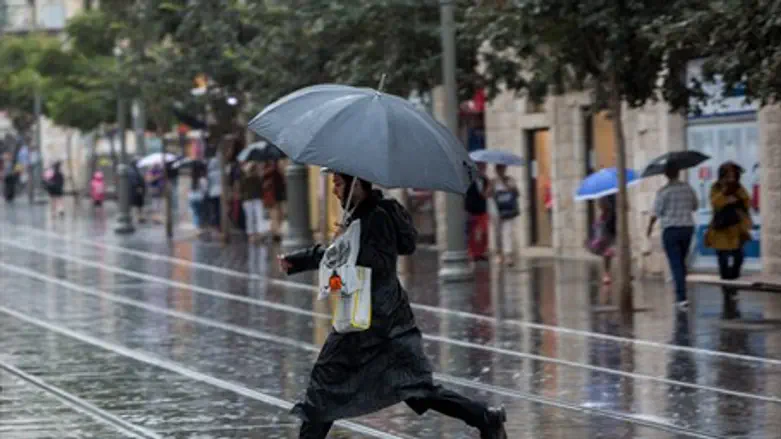 Rain in Israel (illustration)
Yonatan Sindel / Flash 90
The rain expected Saturday arrived with a boom early Sunday morning, ushering in a week of wintry weather, cold temperatures and precipitation across Israel. 
On Sunday, rainfall will be concentrated mainly in central and southern Israel, though localized rain is also expected in the north. In addition, light snow may fall on Mount Hermon. 
Showers are expected to continue on Monday and likely throughout the rest of the week along with cool temperatures. 
Skies will be partly cloudy on Tuesday and Wednesday with the rain subsiding slightly. However, toward the end of the week, showers will once again intensify, mostly in northern and central Israel. 
Summer lovers can take cold comfort in the fact that exactly two years ago a massive snow storm swept Jerusalem, leaving thousands without power and numerous streets barricaded.  
Temperatures Sunday afternoon are forecast as 19°C (66.2°F) in Tiberias, 11° (51.8°) in Tzfat, 17° (62.6°) in Nahariya, 16° (60.8°) in Haifa, 10° (50°) in Ariel and Jerusalem, 16° (60.8°) in Tel Aviv, 17° (62.6°) in Rehovot, 15° (59°) in Ashkelon and Be'er Sheva, 16° (60.8°) in Sderot, 19° (66.2°) at the Dead Sea and 20° (68°) in Eilat.