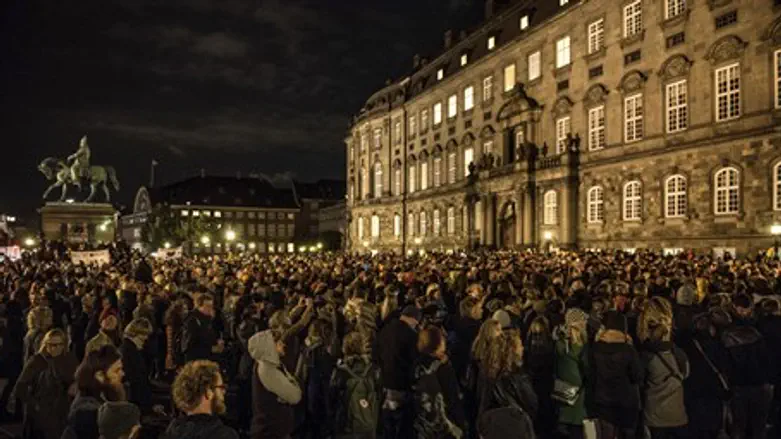 Copenhagen, Denmark (illustration)
Reuters
The NGO Monitor research institution on Wednesday took part in a special session of the Danish Parliament, and told Danish lawmakers the supposedly humanitarian funds their country is handing over to local NGOs is actually advancing anti-peace agendas.
Shaun Sacks, a researcher at the independent Jerusalem-based NGO Monitor, addressed the Foreign Affairs Committee and Foreign Policy Committee in Copenhagen.
He revealed that Danish taxpayers' money being sent through third party NGOs for the goal of stopping the Israeli-Palestinian conflict in fact end up funding projects that contradict the Danish government's stated objectives.
Denmark's Parliament has over the years passed resolutions urging a negotiated peace deal based on the 1949 Armistice lines, calling to normalize ties between Israel and the Arab states, and calling for an acceptance of Israel's right to security.
Despite these motions, Sacks told the Parliament that Danish funds have been supporting NGOs that work to thwart normalization and actively try to have a state of "Palestine" be established in place of Israel.
Sacks presented several examples of radical NGOs directly funded by Denmark, including Badil, a group that openly calls for "a de-Zionized Palestine of a single state" and supports the BDS boycott movement, both of which are positions contradicting stated Danish policy.
Badil has even published anti-Semitic cartoons on its website and awarded monetary prizes to some of the cartoonists.
But despite all that, it receives core budget funding of $260,000 from the Human Rights and International Humanitarian Law Secretary, a key channel of the Danish government in transferring development aid to NGOs.
Citing a recent official report on Denmark's role in the Middle East, Sacks noted most of the country's engagement is managed by local NGOs.
The report found there is "no evidence of overall progress towards improved accountability, transparency" and "no progress towards the two-state solution," showing how the usage of local NGOs has prevented Denmark's engagement from having any positive impact.
While telling the Parliament that Denmark's intentions clearly are to help, Sacks said it must demand that the NGOs it funds act in accordance with its official policies if it wants to see results.
Denmark spends a full 0.85% of its Gross National Income on foreign aid, a figure that signifies $2.9 billion. Only three other countries spend a higher percentage of their income on foreign aid, notes NGO Monitor.