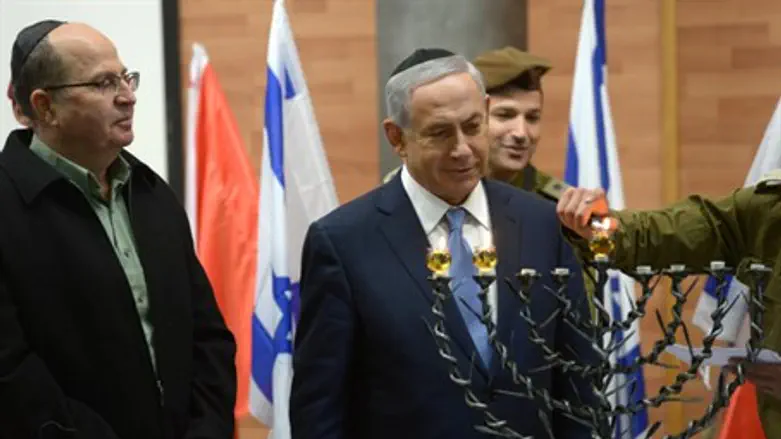 Netanyahu, Ya'alon light Hanukkah candles with IDF
Amos Ben Gershom/GPO
Prime Minister Binyamin Netanyahu lit the second Hanukkah candle with soldiers of the IDF Duvdevan unit on Monday, in a special ceremony also attended by Defense Minister Moshe Yaalon, IDF Deputy Chief-of-Staff Maj.-Gen. Yair Golan, Division Commander Brig.-Gen. Lior Carmeli and Duvdevan Commander Col. K.
"My grandfather came to Jaffa in 1920," Netanyahu stated at the ceremony. "Several months later [in May 1921], Arab rioters burned the Jewish immigration office where he had gone. They murdered several Jews there including famed author Yosef Chaim Brenner."
"I note that year as the start of the armed struggle against Zionism; we are approaching 100 years."
"There has always been terrorism," he continued. "There were also direct military attacks against us and there are also considerable military threats against us, less by regular armies and more by missiles, but the terrorist threat is constant."
"The threat of terrorism comes in waves and we have repelled those waves, and we are still in the midst of this wave." 
Amos Ben Gershom/GPO/Flash90
Netanyahu thanked the IDF for their service in fighting the current terror wave. 
"You are at the forefront of the war against the current wave," he stated. "Your ability to go into the villages, communities and homes is a most important capability for the security of Israel."
"The vast majority is not a suicidal majority," he continued. "The circle of those willing to commit suicide is limited."
"The circle of attackers is considerably larger and the ability to reach, apprehend, exact a price, take and if need be to foil or kill – this capability is cardinal for our defense," Netanyahu urged. "We cannot defend ourselves against the evil if we cannot fight it. You are a central component of the ability of the State of Israel and of the people of Israel to defend against the enemy."
"I think that the Defense Minister and I recognize very well the fact that in the field one needs a level head, daring and meticulous planning, and who but you know do not plan exactly the way you would like."
"Many times it does not go as planned and, therefore, one must become acclimatized into language and culture, in addition to all of the operational requirements."
"Therefore, as far as I am concerned, this unit is among the top elite units, not of the State of Israel but in the world," he concluded. "I want you to know that the people of Israel are proud of you and we all owe you our gratitude."
"Happy Hanukkah to you all."