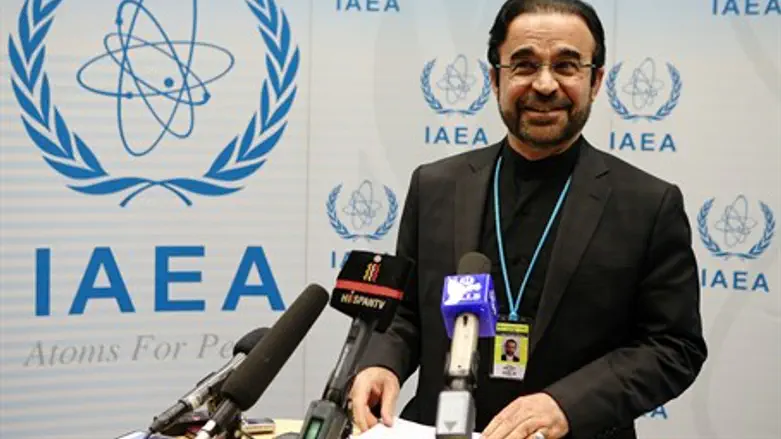 Iran's ambassador to the IAEA Reza Najafi
Reuters
Iran is rejecting the part in the recent report by the International Atomic Energy Agency (IAEA) which states it tried to build nuclear weapons in the past, its envoy to the UN agency said Saturday, according to Press TV.
The ambassador, Reza Najafi, said the report has "certain negative points," including allegations about some studies pertaining to the development of nuclear weapons.
He emphasized that the report in general indicates no diversion in Iran's nuclear activities and in fact rejects all allegations made over the past 12 years about Tehran's intention to make a nuclear bomb, but said that certain claims in the report are not accepted.
The report, issued last Wednesday, found that the Islamic Republic attempted to develop nuclear weapons in the past, and that most of the dedicated work took place before 2003, though some parts continued until 2009.
Iran's senior nuclear negotiator later claimed that the report, despite determining Iran had tried to develop nuclear weapons, showed Iran's nuclear program was "peaceful".
The UN watchdog recently released a report which determined that Iran had violated the terms of its nuclear deal with the West by increasing its stockpile of low-enriched uranium in the past three months by 460.2 kilograms.
Last month it was also revealed that Iran had stopped dismantling its centrifuges at the Natanz and Fordow uranium enrichment plants, breaching the nuclear deal that calls for the dismantling.
Prime Minister Binyamin Netanyahu called on the UN watchdog to continue and even intensify the investigation of Iran's activities following the report on Wednesday.
Infrastructure, Energy and Water Minister Yuval Steinitz said the IAEA report was "far from comforting" and added that it proved Iran cannot be trusted.