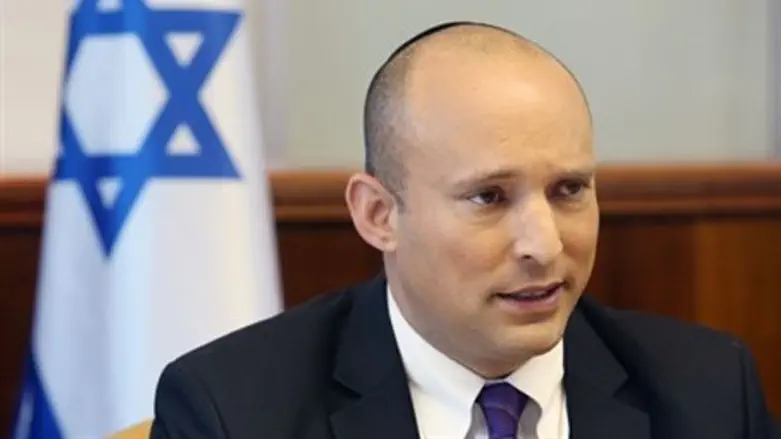 Naftali Bennett
Marc Israel Sellem / Flash 90
Jewish Home chairman and Education Minister Naftali Bennett will return to the Knesset following Yinon Magal's resignation. 
Arutz Sheva has learned that despite earlier reports to the contrary, former MK Avi Wortzman will not replace Magal, who stepped down after allegations of sexual harassment surfaced against him. 
Wortzman clarified on Wednesday that he is not interested in returning to the Knesset and prefers to focus on his current position. 
"In the past few days, I seriously weighed returning to the role of an MK," he said. "I decided to stay with the residents of ALEH Negev - Nahalat Eran [rehabilitation village], the weakest members of society."
"I was privileged to work with special children who need all my love and strength," Wortzman continued. "I see this as sacred work. After a few months as director of the village, at the side of Maj. Gen. Doron Almog, I realized my commitment to the children of the village, its employees, and their families. I've decided I cannot leave them at this time at the beginning of important tasks of tikkun olam."
"I will continue my public mission wherever I am," Wortzman added. "I think my friend, party chairman Naftali Bennett who turned to me, understood my decision and backs me all the way."
After Magal's resignation from the Knesset on Monday, Bennett responded, saying, "I received Yinon's resignation announcement, and consider it a fitting action. I hope that the process he is in will end as quickly as possible and he will be able to devote himself to his family and to his future path."
Bennett himself initially stepped down from the Knesset in October, as part of the so-called Norwegian Law which allows ministers to give up their parliamentary seats while maintaining their ministerial posts. He gave his then-seat to MK Shuli Mualem.