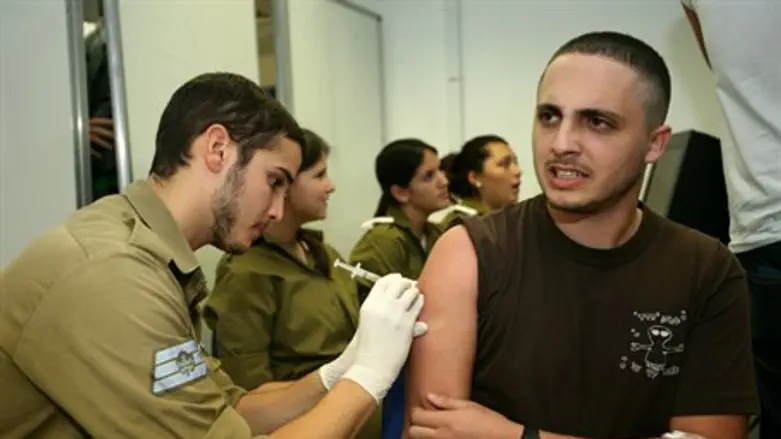 New IDF recruits (illustration)
Flash 90
HIV-positive Israelis will be conscripted into the IDF for the first time, the army said Wednesday, in a controversial move that has apparently been avoided until now due to the fear of blood contact and infection.
While Israelis - aside from the majority of the state's Arab citizens - are required to do military service, people with HIV have long been exempt on medical grounds.
However, the IDF confirmed this policy would be scrapped in the coming months.
In an apparent attempt to avoid infection via blood, HIV-positive soldiers will not serve in combat roles but rather in administrative and other positions.
Colonel Moshe Pinkert, head of the IDF's medical services department, said new treatments meant the risk of HIV-positive citizens passing the disease on was limited.
"Medical advancement in the past few years has made it possible for them to serve in the army without risking themselves or their surroundings," he said in a statement on the army's blog.
The announcement, made to coincide with World Aids Day on December 1, was hailed by gay rights groups.
"This process is a significant step towards shattering stereotypes about people with HIV," Yuval Livnat, CEO of the Israel Aids Task Force, claimed in a statement.
AFP contributed to this report.