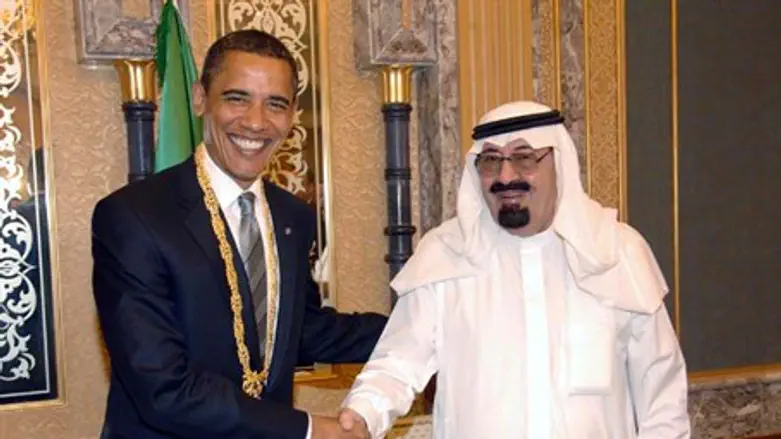 Obama and Saudi King Abdullah
Saudi embassy
The US State Department last week made public a list of the strange and expensive gifts US President Barack Obama and his family were given by world leaders over the course of 2014.
The gifts given to the Obama family topped $1.5 million, although as a federal employee Obama is legally barred from accepting them and must reject them, turn them over to the federal government, or pay their market value in order to keep them. Obama has dispensed most of the gifts to the National Archives, reports CNN.
Coming in first place in pampering the Obamas was the Saudi royal family, which gave head and shoulders above the rest by forking out around $1.3 million in various presents - the late King Abdullah bin Abdulaziz spent over a million dollars in expensive jewelry for Michelle Obama alone.
Obama had a close relationship with Abdullah, who died this January at the age of 90. The president was sharply criticized for bowing to the Saudi king in 2009, not long after taking office. Ironically, given the lavish gifts given to her, Michelle was blurred out by Saudi TV in January during a condolence visit after Abdullah's death.
The most expensive gift was sent by Abdullah to Michelle, and consisted of a "diamond and emerald jewelry set including necklace, earrings, ring, and bracelet." Later in 2014 he gave her another "diamond and pearl jewelry set including necklace, earrings, ring, and bracelet."
The exclusive jewelry reached a whopping combined total of $1.1 million.
Abdullah didn't forget Obama's two daughters Malia and Sasha either - he bought the two dazzling jewelry sets that rang up to $80,000, including diamond and emerald and diamond and ruby earrings, necklaces, rings, brooches and wristwatches.
Just last month the Saudi royal family kept its gift giving going, as Abdullah's son Prince Miteb, who is head of the Saudi National Guard, gave the Obama family a "robe of sheer white fabric with a beaded flower pattern and pink-purple trim."
Aside from the robe, Miteb also gave the president an "orange sheer fabric floor-length cape," and a "brown and blue paisley robe with satin purple lining and tassels."
The robes and cape cost a pretty penny at $39,915.
But the oil rich Gulf state of Saudi Arabia was not the only one to endow the Obama's with lavish and luxurious presents.
Malaysia's king gave a $8,000 gift basket with a steel-bladed sword featuring "a grip of polished wood carved in the shape of water fowl, held in a sheath of gold and silver with encrusted gemstones." The basket also included coins, a plate, and a picture of the king and his queen.
After getting a sword, Obama was also given a knife by Algerian Prime Minister Abdelmalek Sellal, who gave a "ceremonial dagger decorated with detailed silver work and coral stones" valued at $885.
The non-Muslim world got in on the gift giving too, with Prince William of the UK sending Obama a "framed, matted and signed photographic portrait of Prince William" himself. The portrait priced in at $888.