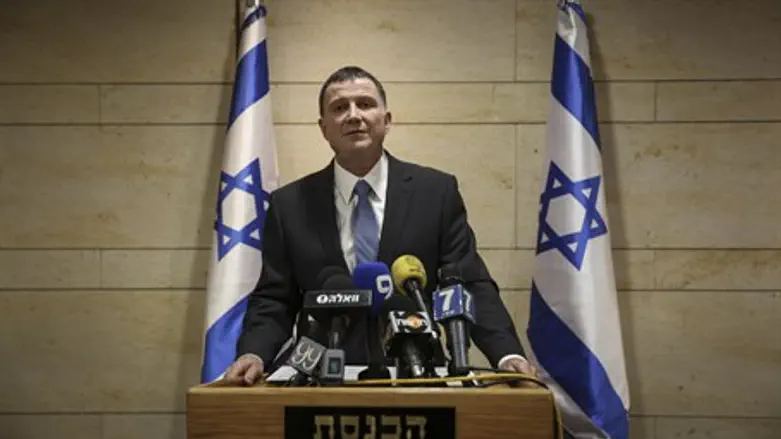 Yuli Edelstein
Hadas Parush/Flash 90
Knesset Speaker Yuli Edelstein (Likud) will fly to Germany this Tuesday, for an official visit commemorating 50 years of diplomatic relations between Israel and Germany.
This is a reciprocal trip following the Bundestag President Dr. Norbert Lammert's recent visit to Israel, during which he gave a speech in the Knesset and attended a special concert in the building's Chagall Lounge.
This will be MK Edelstein's first time in Germany, following decades in which he refused to set foot in the country.
Edelstein explained that "this isn't a trip like any other for me. As the son of Holocaust survivors, I decided that I would not enter Germany unless my position requires it of me. Standing on German soil in my official state role as Speaker of the Knesset will, without a doubt, send chills down my spine. But on the other hand, I feel that it is time, 50 years after the establishment of relations with Germany, that I, myself, also begin to establish new relations with Germany."
Edelstein's trip is expected to include a public speech to the members of the Bundestag, as well as meetings with President Joachim Gauck and Chancellor Angela Merkel,.
He will also meet with members of the Israel-Germany Friendship Society; attend a special ceremony at Berlin's Track 17, from which Jews were taken to their deaths in concentration camps; attend a dialogue with German youth; and take part in a range of other activities over the course of the three days.
Edelstein will head a delegation of five Knesset members, including Nachman Shai (Zionist Union, also head of the Israeli-German inter-parliamentary group), Tali Ploskov (Kulanu), Yoel Hasson (Zionist Union), and Hamad Amar (Yisrael Beytenu). Ya'akov Edri, the mayor of Or Akiva and former minister, will also take part.