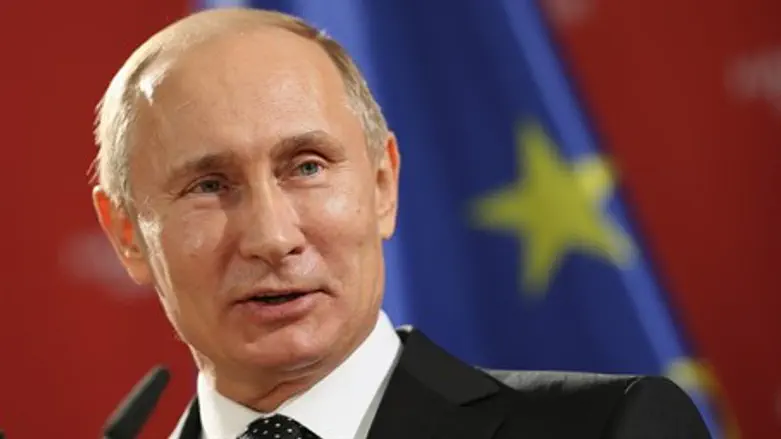 Russian President Vladimir Putin
Thinkstock
Russian President Vladimir Putin said on Thursday that Russia had given prior information to the United States of the flight path of the plane downed by Turkey on the Syrian border.
"The American side, which leads the coalition that Turkey belongs to, knew about the location and time of our planes' flights, and we were hit exactly there and at that time," Putin said at a joint press conference with French counterpart Francois Hollande in the Kremlin, according to AFP.
Ahead of the Hollande talks, Putin and Turkish President Recep Tayyip Erdogan traded barbs, with the Russian leader saying he was waiting for an apology and Erdogan ruling out any such move.
Putin on Thursday dismissed as "rubbish" Turkey's claim that it would not have shot down the jet if it had known it was Russian.
"They [our planes] have identification signs and these are well visible," Putin said. "Instead of [...] ensuring this never happens again, we are hearing unintelligible explanations and statements that there is nothing to apologize about."
Putin has also accused Turkey of buying oil from the Islamic State jihadist group, whose financing heavily relies on the sale of energy resources, a charge which Erdogan denied earlier Thursday.
Putin said there was "no doubt" that oil from "terrorist-controlled" territory in Syria was making its way across the border into Turkey.
"We see from the sky where these vehicles [carrying oil] are going," Putin said. "They are going to Turkey day and night."
"These barrels are not only carrying oil but also the blood of our citizens because with this money terrorists buy weapons and ammunition and then organize bloody attacks," he added.
Erdogan said earlier Thursday that Turkey would have acted differently if it had known a warplane its forces downed on the Syrian border was Russian.
He also said that Russian President Vladimir Putin had not answered his call after Tuesday's incident that has seriously damaged ties between two rival players in the Syrian conflict.
"I called Mr. Putin but until now he never answered my call," he said.
Turkey also Thursday summoned the Russian ambassador to Ankara over a violent demonstration outside its embassy in Moscow over the jet downing.
AFP contributed to this report.