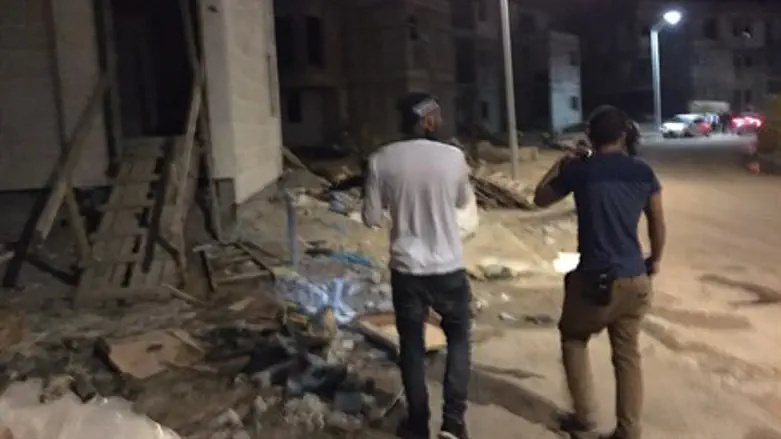 חיפושים בקריית גת
צילום: משטרת ישראל
After an extensive manhunt, security forces have succeeded in capturing the terrorist who stabbed four people outside a soccer stadium in Kiryat Gat earlier Saturday night.
Israel Police Southern Commander Yoram Halevi announced the arrest of the terrorist, along with two other Arabs who had aided him in carrying out the attack.
The terrorist has been identified as a Palestinian Arab teenager from a village near Hevron who was working illegally in Israeli sovereign territory. 
Watch: Massive manhunt for Kiryat Gat stabber: 
"The terrorist found a quiet, dark area in the yards of one of the (local) houses," Halevi said. "He hit and waited for the right time - most likely the early morning - to escape from the city."
Earlier Saturday night, Kiryat Gat municipality announced that should the terrorist who evade authorities, classes will be canceled across the city Sunday.
Scene of Kiryat Gat attack:
Authorities added that, should this occur, it would be treated as an emergency situation and emergency centers would be opened for children in public libraries, the Beit Rachel Community Center, and the Sha'ar Darom Enrichment Center.
The attack began near the city's soccer stadium and left four people wounded. The stabber managed to flee the scene, sparking a major manhunt, with security forces checking all vehicles entering and leaving the city.
During their searches, police rescued a Bedouin resident of Segev Shalom who was attacked and lightly wounded by residents under the false belief that he was the terrorist.