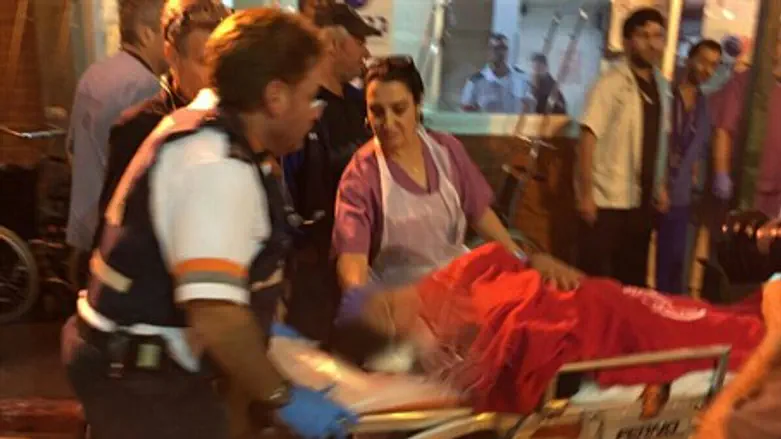 פינוי הפצועים הערב בקריית גת
צילום: מד"א
First responders hurried to Kiryat Gat's King David Street after receiving a report of a stabbing attack.
Four people were wounded in the attack: A 51-year-old man, a 56-year-old woman, a 44-year-old woman, and a 13-year-old girl.
All were treated at the scene and evacuated to nearby hospitals in stable condition.
Authorities believe that the perpetrator may currently be trapped in an apartment building.
Police have released a statement, reading: "Suspected stabbing attack in Kiryat Gat. A few minutes ago police received a report of a suspect stabbing people on King David Street in Kiryat Gat, near the Dor Alon gas station. Police forces at the scene are searching the area for the perpetrator. It appears there are a number of victims. At this time it is too early to say if the incident was criminal or terror."
During their searches, security forces have found and arrested about 10 illegal squatters, most of whom are Eritreans.
David Overland, a United Hatzalah volunteer, said, "When we arrived at the scene I came across a Haredi man who had been stabbed in the upper body and his tzitzit were stained with blood. Together with other volunteers from United Hatzalah's motorcycle unit, I provided him first aid and then he was taken by an MDA ambulance to the hospital."