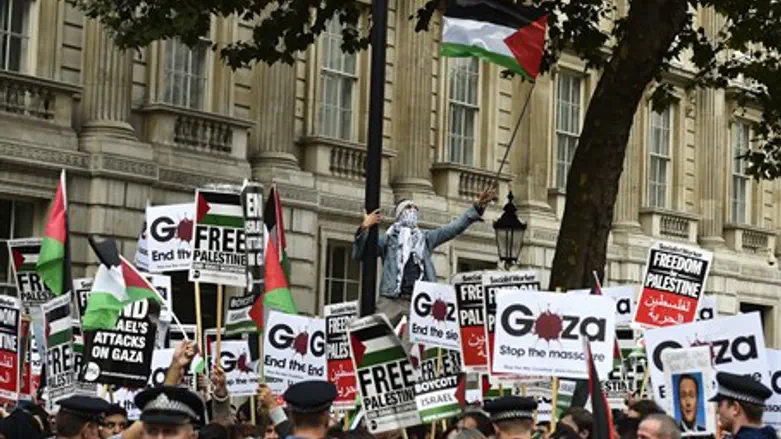 Anti-Israel demonstration (illustration)
Reuters
The Anti-Defamation League (ADL) released a new report on Wednesday detailing a significant increase in anti-Israel activity on American university campuses over the 2014-2015 academic year.
No fewer than 150 explicitly anti-Israel events were held in Fall 2015 alone, marking a noted increase from the 105 such events that took place in the same period during the previous year.
Universities were themselves complicit in the anti-Israel events, with at least 15 of the events being sponsored or co-sponsored by university departments at institutions including the University of California-Berkley, Drew University, and John Jay College of Criminal Justice.
At least 10% of the anti-Israel events were co-sponsored by student groups whose primary missions do not include a focus on the Israeli-Palestinian conflict, which ADL notes sends a message that the groups' missions are aligned.
"Student groups at a number of campuses are sponsoring a range of programs and initiatives designed with one goal: to isolate, defame and delegitimize Israel," said Jonathan A. Greenblatt, ADL CEO. "Many of these efforts have resulted in increased tension between students and have fostered a hostile atmosphere for pro-Israel and Jewish students. We are particularly concerned by the support these initiatives have received from faculty members."
"The tactics employed by the BDS movement - along with the continued efforts by anti-Israel student groups seeking to stifle discourse about the Israeli-Palestinian conflict and Israel in general through disruption and defamation - is a deeply troubling phenomenon that has contributed to an atmosphere at some institutions where Jewish and pro-Israel students feel uncomfortable voicing their views or even asserting their Jewish identity."
Greenblatt noted that "BDS is not an effort designed to engender a peaceful resolution of the Israeli-Palestinian conflict. It does not seek to achieve a two-state solution that benefits all parties. Instead, it seeks to undermine the Jewish State of Israel. It's an agenda of anti-normalization that demonizes Israel and its citizens simply because of their identity."
"This is the antithesis of constructive dialogue that the university should embody. In practice, the BDS movement's indiscriminate targeting of individuals based solely on their national origin and irrespective of views or actions is inherently anti-Semitic. While most incidents of anti-Semitism on campus are not generated by BDS, anti-Israel activity can often cross the line to anti-Semitism or foster an atmosphere in which anti-Semitic stereotypes are tolerated."