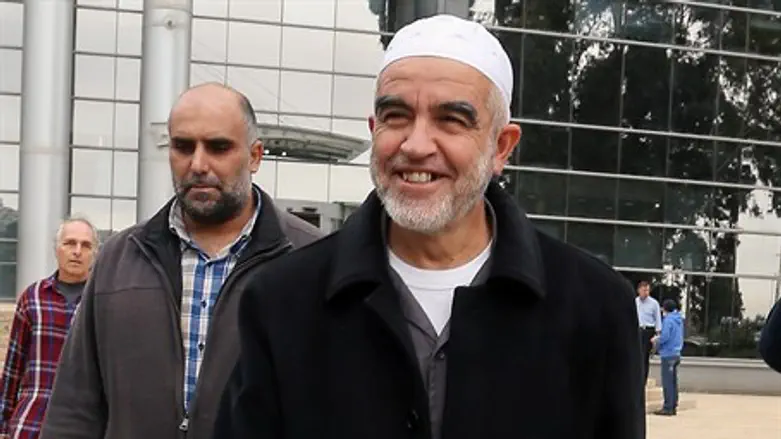 Islamic Movement head Raed Salah after outlawing
Basel Awidat/Flash 90
The deputy leader of the Islamic Movement in Israel has accused Arab officials of plotting to help Israel come to its decision Tuesday on outlawing the radical group. 
According to Sheikh Kamal Katib, the assistance was provided as part of talks between Israel and Arab officials on putting an end to the two-month long terror wave that has swept the Jewish state.
In an interview with Hamas news website Al-Risala, Khatib suggested these Arab officials were even more aggressive than Israeli Prime Minister Binyamin Netanyahu in having the group outlawed. 
He further claimed that the decision to ban the group was part of understandings reached between Netanyahu and US Secretary of State John Kerry. 
Khatib stressed that Israel will regret the decision, as the Islamic Movement will not be defeated and will continue its "struggle for jihad."
"The Islamic Movement has in its hands information on those who plotted against it which will be revealed at the appropriate time," he added. 
Israel attributes the Islamic Movement's close financial ties with Hamas and the Muslim Brotherhood as the legal basis for banning the group, Channel 10 revealed Wednesday night. 
The radical group receives between 50 to 60 million shekels ($12.8-15.4 million) annually from the Muslim Brotherhood and its Gazan offshoot Hamas, most of which fund illegal activities on the Temple Mount, including the harassment of Jewish visitors. 
The Islamic Movement also stands accused of inciting and otherwise fomenting Arab violence against Jews.