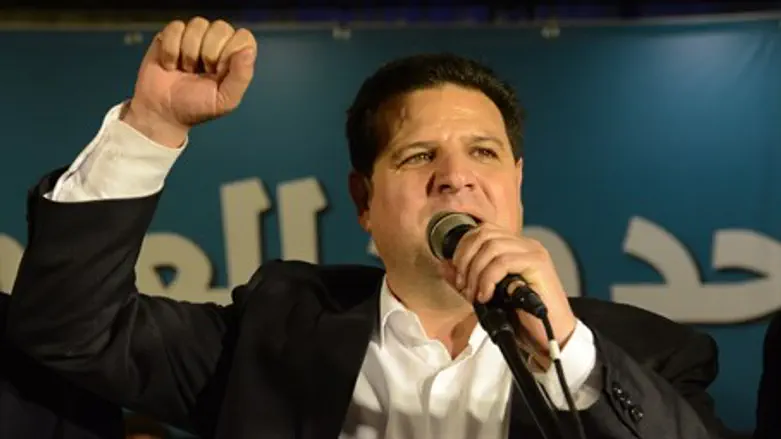 Ayman Odeh
Basel Awidat/Flash 90
Joint List chairman Ayman Odeh threatened "consequences" over the blacklisting of Islamist group the Islamic Movement in Israel Wednesday, saying there would be a "harsh response." 
"The government placed an entire organization outside the law, including non-profits that serve the needy," he fired, in an interview with Army Radio.
"No one should be banned, apart from Kach," he opined, referring to the nationalist Jewish party headed by assassinated Rabbi Meir Kahane.
Odeh also criticized Prime Minister Binyamin Netanyahu for fighting terror, claiming Netanyahu's steps to fight Islamist extremism and terror from within Israel's borders constitutes "racism." 
"Netanyahu has an agenda," he claimed. "He says that behind the Arab MKs there are ISIS flags, he talks about Hitler's Mufti and the Holocaust, he tries to de-legitimize all the Arab population."
"I am in favor of a just struggle of the Palestinian people to end the occupation and establishing a Palestinian state alongside Israel," Odeh added. "There is no doubt that we must change the status quo." 
Odeh then threatened that there will be a "general strike" and "national demonstrations" in response to the Islamic Movement blacklist. 
The Joint List has unequivocally supported the northern branch of the Islamic Movement and its leader, Raed Salah, despite the organization's rampant terror activity in and outside Israel's borders. The Movement's Southern Branch - which broke with the Northern Branch over tactics, including whether or not to run in Israeli elections - is actually a member of the Joint List, under the United Arab List faction.
The movement was outlawed on Tuesday for its long history of inciting terrorism, organizing and funding violent riots on the Temple Mount, and its close connections with Hamas.
A recent poll reveals that 42.2% of the Arab population including all its ethnic and religious groups define themselves as supporters, members or activists of the Islamic Movement. 18.2% of Arab Muslim citizens of Israel, and 28.1% of all supporters of the Islamic Movement, said they do not consider Islamic State (ISIS) to be a radical terrorist organization, and that they are not ashamed of the brutal jihadist group.