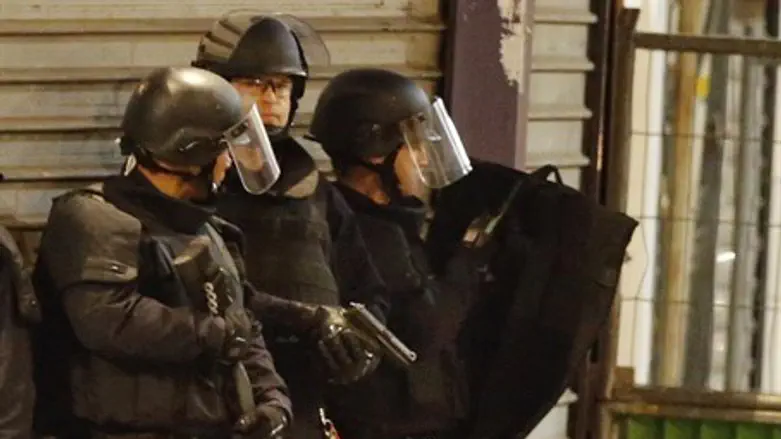 French special forces in operation to catch Paris attack mastermind
Reuters
Two terrorists were killed during an anti-terror police raid Wednesday in a Paris suburb, including a female suicide bomber who detonated herself. 
The raid in Saint Denis began at about 4:30 am local time, and targeted Abdelhamid Abaaoud, the planner of the murderous Paris attacks Friday night, and Saleh Abdelslam. The apartment, at 8 rue du Corbillon, is just 2km from the Stade de France, one of the targets of Friday's attacks. 
Special forces arrested four people after an extended standoff, and two others - a man and a woman - arrested close to the apartment, the French prosecutor's office said. Fifteen civilians have been evacuated from the complex. 
In addition, the possible owner of the apartment was arrested. He told an AFP reporter moments before being arrested that he provided accommodation for two Belgians at the flat upon the request of a friend. 
Both are Belgian citizens; hosting illegals is apparently common for the neighborhood, a BBC reporter writes, noting that a great deal of migrants live in Saint-Denis "sans papers." 
Meanwhile, the Belgian federal prosecutor's office admitted Wednesday to Politico that they knew the Abdeslam brothers had been radicalized, and even interrogated Saleh upon his return from Syria, "but (he) showed so sign of possible threat." 
Residents of Saint-Denis were awakened by an exchange of gunfire in the middle of the night and people have taken to social media in an attempt to get more information. 
When police first began the raid, they were confronted by heavy Kalashnikov fire, the Telegraph now confirms - shortly before the female suicide bomber then detonated herself. Five police officers - members of RAID, France's SWAT team - are suffering from minor injuries; one police dog was killed during the raid. 
Meanwhile, Saint-Denis is on lockdown; all schools have been cancelled for the day, public transport has been shut down, and local residents have been advised to remain behind lock and key in their homes. Locals told BBC that the lockdown is being enforced by military police; the streets have also been cordoned off. 
Armed police raided Saint-Denis's town hall as well, wearing balaclavas; they left soon after, apparently looking for someone.
Police ended the raid just before noon local time (1:00 pm IST); forensic scientists and investigators have now begun working on the crime scene.