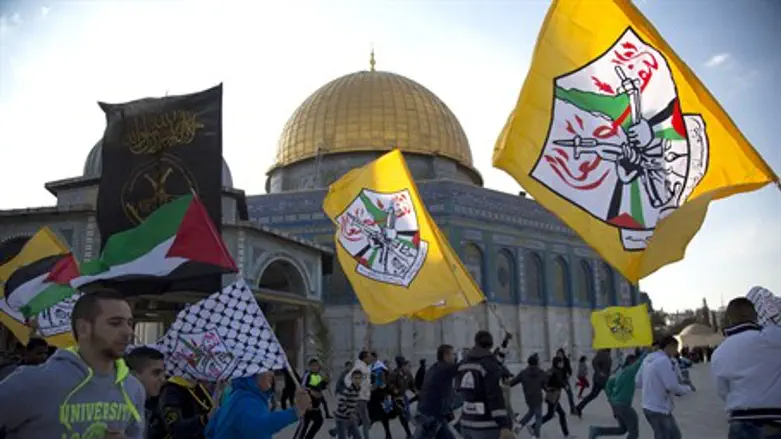 Terror flags on Temple Mount (file)
Muath Al Khatib/Flash 90
Results of research showing the 2015 index for relations between Jewish and Arab citizens of Israel, published partially for the first time on Tuesday, show just how far the Arab population supports and identifies with openly pro-terror organizations.
The research, conducted by Professor Sami Samucha, reveals that no less than 57% of Arab citizens of Israel say they feel the radical Islamic Movement in Israel faithfully represents them.
Significantly, the movement was outlawed on Tuesday for its long history of inciting terrorism, organizing and funding violent riots on the Temple Mount, and its close connections with Hamas.
The research also revealed that 42.2% of the Arab population including all its ethnic and religious groups define themselves as fans, members or activists of the Islamic Movement.
No less than 18.2% of Arab Muslim citizens of Israel, and 28.1% of all supporters of the Islamic Movement, said they do not consider Islamic State (ISIS) to be a radical terrorist organization, and that they are not ashamed of the brutal jihadist group.
ISIS just this Saturday conducted a series of coordinated attacks in Paris, murdering at least 129 people.
Prof. Samucha commented that the high level of support for ISIS is very troubling, particularly given that the Arab leadership in Israel and leaders of the Islamic Movement have strongly denounced the group.
The research would seem discount Jewish Home chairman Naftali Bennett's statements in November 2014, when he claimed that "99.9% of Arab citizens are loyal to the state of Israel."
That assertion was previously cast in doubt just days after it was made, by a poll which found that roughly a third of Israeli Arabs supported the terror wave that was taking place at the time, blaming Israel for it.