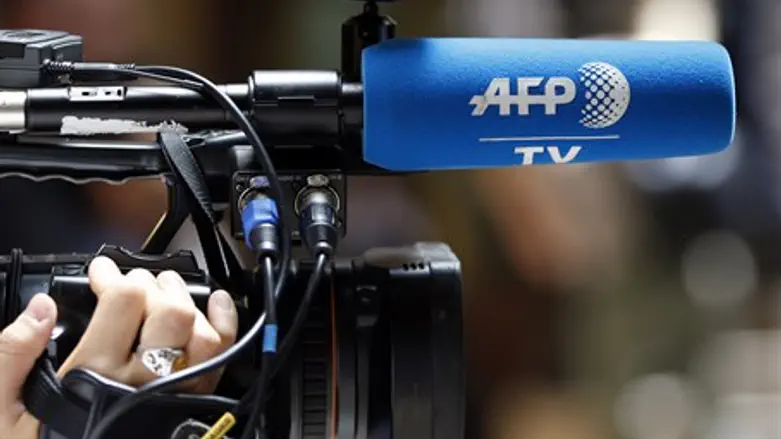 AFP TV camera
Reuters
The same Saturday that Islamic State (ISIS) claimed a series of attacks that left over 128 people murdered in Paris, the French Agence France Presse (AFP) published a chronology of Islamist terrorist attacks in recent years.
But in the list of bloody attacks spanning from the September 11, 2001 attack on the World Trade Center in New York up to the weekend's carnage in the French capital, one country that saw more attacks than the rest combined was strangely absent.
It may come as no surprise that the missing country was Israel, the Jewish state, given that Western media has long attempted to marginalize and in certain cases justify the constant lethal attacks against Israeli civilians and security personnel by a range of terrorist organizations including Hamas, Fatah, Islamic Jihad, Hezbollah and others.
Ironically, a lethal terrorist attack took place in Israel just last Friday evening, mere hours before the Paris attack; in it, a Jewish father and son were gunned down by Arab terrorists south of Hevron as they drove with their family.
While the list says it covers only "major attacks," it includes the attacks in Paris this January in which a relatively low number of victims (12 in one attack, four in another and the murder of a policewoman) were recorded.
Israel for its part has borne the brunt of three terror wars launched by Hamas and one by Hezbollah in Lebanon during the same time period, in addition to numerous large scale terror attacks during the so-called Second Intifada that lasted from 2000 to 2005 in which over 1,000 were murdered. That terror war included major attacks that left dozens of victims, such as the 2002 Passover massacre in which 30 were murdered to cite but one example.
The AFP chronology - absent the Jewish state - is as follows:
Friday's attacks in Paris are the latest violence claimed by radical Islamist groups since the destruction of the twin towers in New York in 2001.
Here is a chronology of major attacks:
- November 13, 2015: FRANCE - An unprecedented string of attacks leaves at least 120 dead and more than 350 injured. The assailants struck six different sites on Friday evening, including the Stade de France football stadium and eateries in the trendy east of the city. The Bataclan concert venue in Paris, where 82 people were killed, was the hardest hit target. On November 14, the jihadist Islamic State (ISIS) group claims responsibility.
- November 12, 2015: LEBANON - An attack claimed by ISIS on a stronghold of Lebanon's Shi'ite movement Hezbollah in southern Beirut, leaves 44 dead. It is the largest ISIS-claimed attack ever in Lebanon, and among the deadliest bombings to hit the country since the end of its 1975-1990 civil war.
- October 31, 2015: EGYPT - A Russian jet leaving Egypt crashes in the Sinai peninsula, leaving all 224 people on board dead in Russia's worst air disaster. An ISIS-linked group claims responsibility, and Washington and London say they believe the crash was caused by a bomb on board.
- October 10, 2015: TURKEY - 102 people are killed and more than 500 injured in a suicide attack in front of Ankara's train station, where activists were gathered for a peace demonstration. Ankara's public prosecutor says the attack, the worst in Turkish history, was ordered by ISIS in Syria.
- June 26, 2015: TUNISIA - 38 tourists, including 30 Britons, are killed when a Tunisian student armed with a Kalashnikov rifle opens fire in a beach resort. The attack is claimed by ISIS. The violence stokes memories of a March 18 attack claimed by the ISIS on the Bardo Museum in Tunis that left 22 dead.
- April 2, 2015: KENYA - A day-long siege of the eastern Garissa University kills 148, including 142 students. Claimed by Somalia's Al-Qaeda-linked Shebab, the attack is Kenya's deadliest attack since 1998 US embassy bombings.
- January 7-9, 2015: FRANCE - Two men armed with Kalashnikov rifles storm the Paris offices of satirical weekly Charlie Hebdo killing 12 people including eight cartoonists. A policewoman is killed just outside Paris the following day, while a gunman takes hostages at a Jewish supermarket, four of whom are killed.
- September 21-24, 2013: KENYA - An armed commando storms the Westgate shopping center in Nairobi, a favorite of Kenyan and expatriate shoppers. The attack, claimed by Al-Shebab, leaves 67 dead.
- November 26-29, 2008: INDIA - 166 people are killed when Islamist gunmen storm luxury hotels, the main railway station, a Jewish center and other sites in the booming metropolis of Mumbai. On July 11, 2006, 189 people had been killed and more than 800 injured in attacks on trains and railway stations in Mumbai's suburbs.
- July 7, 2005: BRITAIN - Four coordinated suicide attacks during the peak travel period on three underground trains and a London bus kill 56 and injure 700. They are claimed by a group linked to Al-Qaeda.
- March 11, 2004: SPAIN -  A dozen bombs explode in Madrid and in its suburbs on four trains, leaving 191 dead and nearly 2,000 missing. The attack is claimed by Al-Qaeda.
- October 12, 2002: INDONESIA - Attacks on a bar-restaurant and a discotheque on the island of Bali leaves 202 dead, mainly tourists. The attack is carried out by a Jemaah Islamiyah commando linked to Al-Qaeda.
- September 11, 2011: UNITED STATES - Four passenger aircraft are diverted and three deliberately slammed into the twin towers of the World Trade Center in New York and the Pentagon in Washington DC. The fourth plane crashes in Pennsylvania. The attacks, claimed by Al-Qaeda, and which leave around 3,000 dead, are the deadliest in history.