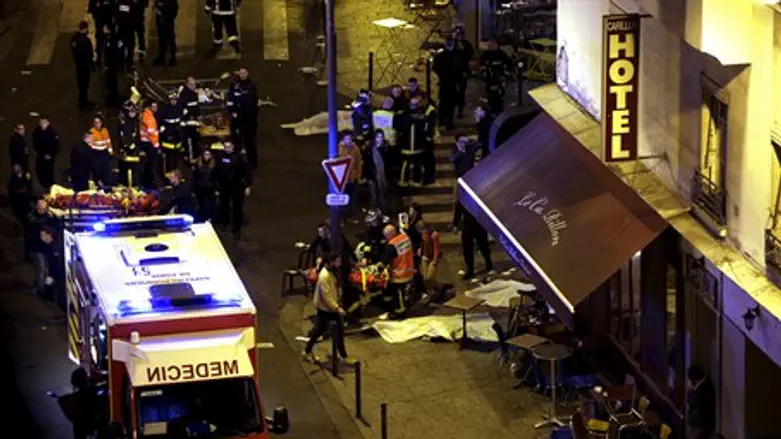 ISIS attack in Paris
Reuters
Islamic State (ISIS) jihadists on Saturday claimed a series of coordinated attacks by gunmen and suicide bombers in Paris that killed at least 128 people in scenes of carnage at a concert hall, restaurants and the national stadium.
French President Francois Hollande also blamed the Islamic extremist group for the bloodshed and called the coordinated assault on Friday night at six different sites an "act of war."
The discovery of a Syrian passport near the body of one of the attackers appeared to confirm fears over the threat posed to Europe by extremism in the Middle East.
The attacks were "prepared, organized and planned overseas, with help from inside (France) which the investigation will establish," Hollande added on Saturday.
The streets of the French capital were eerily quiet on Saturday, as authorities declared a state of national emergency following the worst attacks in Europe since the 2004 Madrid train bombings.
While many locals and tourists stayed indoors out of fear, hundreds gathered spontaneously at blood donation centers. At the spots where lives had been lost only hours before, well-wishers passed to place flowers and candles.
"They didn't stop firing"
Shocked survivors told how eight terrorists, all wearing suicide vests, had stalked the city Friday night gunning down people at bars and restaurants indiscriminately at one of the busiest times of the evening.
In the worst of the bloodshed, four men armed with assault rifles and shouting "Allahu akbar" (Allah is greater) stormed into the Bataclan concert venue.
They mowed down dozens of people at a sold-out show by American rock group Eagles of Death Metal before executing hostages one by one, witnesses said.
"They didn't stop firing. There was blood everywhere, corpses everywhere. Everyone was trying to flee," Pierre Janaszak, a radio presenter who was at the concert, told AFP.
The gunmen were heard raging at Hollande and his decision in September to begin air strikes on Islamic State jihadists in Syria.
"I clearly heard them say 'It's the fault of Hollande, it's the fault of your president, he should not have intervened in Syria'," Janaszak added.
Three of the terrorists blew up their explosive belts as heavily armed anti-terror police ended the siege at around 12.30 a.m. local time, while a fourth was hit by police fire.
Another attacker blew himself up in nearby Boulevard Voltaire.
A police officer who took part in the storming of the building told AFP: "It was horrible inside, a bloodbath, people shot in the head, people who were shot as they were lying on the ground."
ISIS claims responsibility
In a statement posted online Saturday, ISIS said "eight brothers wearing explosive belts and carrying assault rifles" conducted a "blessed attack on...Crusader France."
It said the targets of Friday's attacks "were carefully chosen." The statement also made reference to French air strikes on ISIS in Syria.
It said France was guilty of "striking Muslims in the caliphate with their aircraft" and threatened further attacks "as long as it continues its Crusader campaign."
The death toll of 128 does not include the eight attackers, the first suicide bombers to strike in France.
The assault also left at least 250 wounded, 100 of them seriously.
In a sombre address, Hollande said the multiple attacks were "an act of war... committed by a terrorist army, Daesh, against France," using another term for ISIS.
France has been on high alert since January when jihadist gunmen murdered 17 people in Paris in attacks targeting satirical magazine Charlie Hebdo and a Jewish supermarket.
Another disaster was narrowly averted in August when a gunman was overpowered on a packed high-speed train in northern France.
No arrests had been made by midday Saturday. Police were screening hours of CCTV footage of the attack sites and were attempting to identify the body parts of the attackers.
Hollande declared three days of mourning, and in a sign of the nervousness in the capital, sports events were canceled, many museums were closed and public demonstrations were banned.
The attack claimed by ISIS would mark its third high-profile attack outside of its areas of control in recent weeks. On Thursday it claimed dual suicide bombings in a Hezbollah stronghold in Beirut, leaving 45 dead.
Earlier this month it apparently planted a bomb on a Russian Metrojet passenger airliner, killing all 224 people aboard.
Global condemnation
Hollande himself had to be hastily evacuated from the Stade de France on Friday night when suicide bombers detonated explosives belts outside the stadium during a friendly football international between France and Germany.
At first, few of the crowd grasped the significance of what was happening and the game continued. When news began filtering in, people surged onto the pitch.
US President Barack Obama led international condemnation, saying it was "an attack on all of humanity," and New York lit the new World Trade Center in the red, white and blue of the French flag in sympathy.
Obama is one of dozens of world leaders expected to attend key UN climate talks just outside the French capital from November 30.
Authorities had already tightened security at France's borders on Friday, hours ahead of the carnage in Paris, while European governments held emergency security meetings to respond to the crisis.
In the wake of the attacks, Iranian President Hassan Rouhani postponed his visit to France that was due to begin on Monday.
Other targets
As well as the sports stadium in northeast Paris and the centrally located concert hall, several restaurants were also targeted, including a popular Cambodian eatery in the trendy Canal St. Martin area, where at least 12 people died.
Outside the Cambodian restaurant Saturday, mourners placed flowers, a candle and the French national flag, which had "Fluctuat nec mergitur" written on it - the Latin slogan of Paris, which means "It is buffeted by the waves, yet remains afloat."
Around 18 people were also shot in nearby Rue de Charonne, with a cafe and a Japanese restaurant apparently targeted.
French media reacted with horror.
"War in central Paris," splashed center-right daily Le Figaro, with Le Parisien saying: "This time it's war."
Other reactions were a mix of fear and defiance.
Concert-goer Charles, who spoke to AFP at the Bataclan, said he would refuse to be cowed by the scenes of terror he had experienced.
"Life goes on. We won't give in to fear," he said. "I'm going to a concert on Tuesday. Keep rocking!"
AFP contributed to this report.