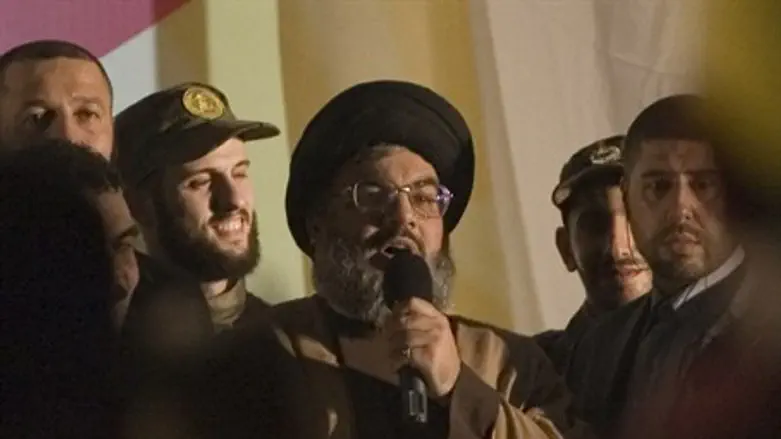 Hezbollah chief Hassan Nasrallah
Flash 90
Among the 45 dead from a double suicide bombing Thursday at a Hezbollah stronghold in Beirut, which was claimed by Islamic State (ISIS), is a senior official in the Iranian Shi'ite terror proxy Hezbollah.
The official was named as Hajj Hussein Yaari (Abu Murdata), a senior figure in the Hezbollah security system, according to Lebanese media reports cited by Walla on Friday.
Over 200 people were wounded in the blasts that the White House rushed to condemned, and which took place in the Ain el Sikkeh area, next to the Burj el-Barajneh Palestinian "refugee camp."
According to reports, the blasts occurred around 200 meters from the Al-Rasul Al-Azzam Hospital that is attached to the Hezbollah terrorist organization. One of the bombers tried to enter a Shi'ite mosque but was pushed out by a civilian who died in the blast, preventing a much larger death toll.
ISIS took credit for the attack, and on sites associated with the group it listed the bombers as being Palestinian Arab and Syrian. ISIS called the attack "a quality operation in the heart of a Hezbollah stronghold," and said "the heretics must know that they do not threaten us."
Hajj Hussein Khalil, a senior aide to Hezbollah leader Hassan Nasrallah, arrived at the scene of the attack and said, "this is a crime against humanity. Those who committed it are monsters, not humans."
Ironically Hezbollah is considered to be one of the first terror groups to use tactical suicide bombings, having launched such brutal attacks back in the early 1980s.
Following the attack Thursday, which targets Hezbollah due to the latter's actions over the last several years propping up Bashar al-Assad's regime in Syria against Sunni rebels and ISIS, Hezbollah ordered its members not to congregate or sit in crowded areas such as cafes out of fears of follow up attacks.
It also ordered civilians in the region where the attack occurred not to run from security personnel who ask to check them, informing them that those trying to run will be summarily shot.