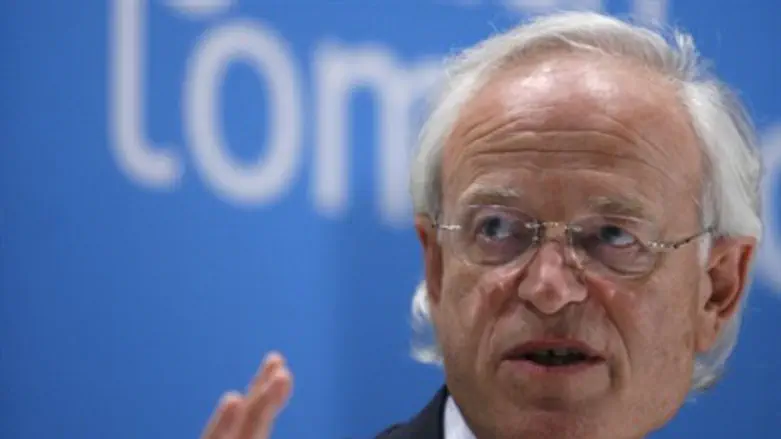 Martin Indyk
Flash 90
US President Barack Obama's former Middle East envoy Martin Indyk claimed at Haaretz's Peace Conference on Thursday that Prime Minister Binyamin Netanyahu, back in 1996 during his first term in office, was ready to give up on the Golan Heights for "peace."
"Every Israeli leader, (Yitzhak) Rabin, (Ehud) Barak and also Netanyahu supported a complete withdrawal from the Golan, if it brought peace," claimed Indyk.
"It could be that if an agreement was signed then, the entire reality today could look completely different," he said.
Indeed, the Golan currently serves as a bulwark against the tide of a bloody years long civil war in Syria, and if it was in Syrian hands it is estimated the topographically strategic region would likely serve as a launching pad for cataclysmic attacks on Israel.
Addressing the Israeli public, Indyk said, "you are not a victim. The leaders of Israel convince you that you the public are a victim in order to create a lack of hope. I tell you: don't accept the assumption that you will live on your swords forever."
He went on the claim that the Palestinian Authority (PA), which has been actively inciting terror, believes Israel is not reliable partner, saying, "even when Abu Mazen (PA chairman Mahmoud Abbas) keeps all his obligations, they still say there is no partner."
"You have the ability to turn the other side into a partner," he stated. "Abu Mazen will be a partner, if Israel will be ready to evacuate the settlements. The settlements are the problem."
"The construction in the settlements that continues daily prevents the possibility to return these territories in a future deal. It is impossible to speak about two states while controlling the ground, and thereby continuing the occupation."
Many have noted the fallacy of such claims, pointing to the evacuation in the 2005 Disegnagement plan that led to Hamas's rise in Gaza and three terror wars, and the fact that several wars occurred and the Palestine Liberation Organization (PLO) was founded well before the 1967 Six Day War - which paved the way for the renewed Jewish presence in the Biblical heartland of Judea and Samaria.
Indyk has a long history of attacking and blaming Israel. He is vice president and director of foreign policy for the Brookings Institute think tank in Washington, the main foreign funder of which was revealed to be Qatar, which is also the main financial backer of Hamas.