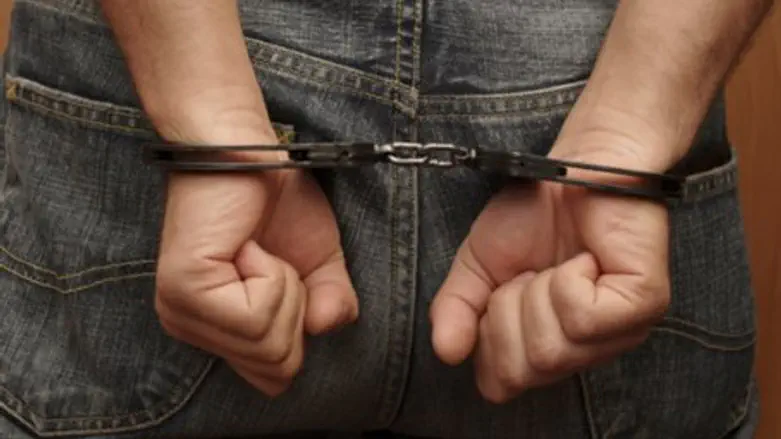 Arrest (Illustrative)
Thinkstock
IDF Central Commander Roni Numa "updated" an administrative order recently issued against a Jewish youth from Har Hevron in southern Judea, sentencing him without trial to two months of full 24-hour house arrest - in what appears to be an attempt to bypass the courts.
In the new version of the order, Numa made a new precedent in writing that the order was given "after I studied intelligence material...and information testifying to the breach of a previous order regarding the individual."
The Honenu legal aid organization, which is representing the Jewish youth, condemned the "upgraded" order as an act of contempt for the court, given that two weeks ago the police asked to extend the arrest of the youth until the end of legal proceedings or else to give him full house arrest.
That request came after the youth breached an administrative order and was caught driving to the wedding of a friend.
However, the court threw out the request and accepted the position of Attorney Itamar Ben-Gvir who represented the youth for Honenu. It ordered the youth's unconditional release aside from a monetary deposit as was determined by the Magistrate's Court.
"The Shabak (Israel Security Agency - ed.) and the commander are making a joke of the court and are unnecessarily editing legal proceedings," said Honenu in a statement.
"The district court didn't receive your position? No problem, sign an upgraded order," they added cynically.
"There was never an attempt by the system to show that the orders are given based on classified information for any serious act of one sort or another; now it is written black on white what we've been arguing for years - this is vindictiveness by the Shabak and (Defense) Minister (Moshe) Ya'alon while bypassing the courts in a manner that harms the rights of the youth."
Administrative orders, a relic from the British Mandate, were almost exclusively used against Arab terror suspects until a recent spate of orders against Jewish youths, including the arrest of three Jews several months ago. The orders require no evidence or trial.