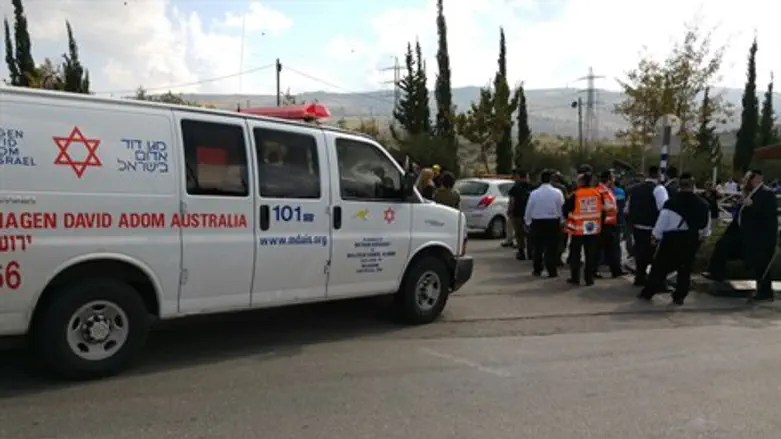 Stabbing scene, Beitar Illit
Magen David Adom spokesperson
A security guard was lightly injured in a stabbing attack at the entrance to Beitar Illit, near Gush Etzion. 
The female terrorist, who was shown in CCTV footage stabbing the guard as he inspected her ID, was identified as suspicious by security forces at the scene; they shot and injured her immediately. 
Security forces carefully checked her person for bombs as well before releasing the news to the press. 
"Our teams treated a 35 year-old man with injuries to his hand at the scene," Magen David Adom (MDA) spokesman Zaki Heller stated Sunday. "The attack was next to the entrance gate to Beitar Illit." 
Heller added that no other people were injured in the attack; the guard was later determined not to need further medical treatment. 
A photo has emerged on Twitter of the terrorist's alleged identity card, giving her name and identity as 23 year-old Halva Alian of Beit Lehem.
This is the second attack in three hours Sunday morning. Shortly after 9:30 am, a Palestinian Arab terrorist rammed his car into four young Israelis at the Tapuach Junction in Samaria - one, a pregnant woman - injuring two seriously. 
Ari Yashar contributed to this report.