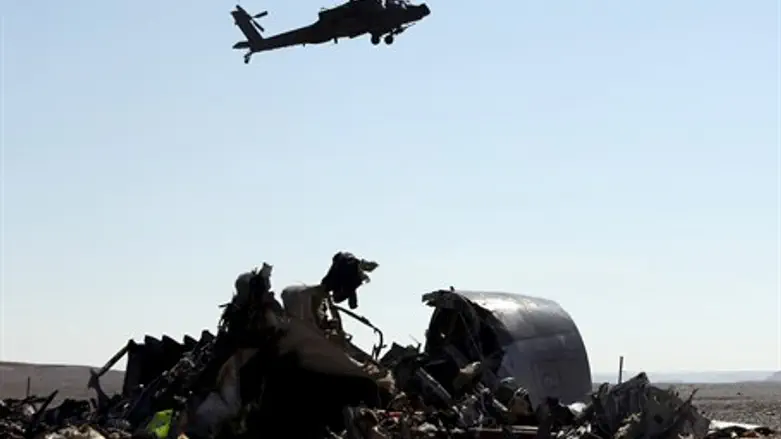 Helicopter flies over wreckage of Metrojet Flight 9268
Reuters
Thousands of Britons are left stranded at Sharm al-Sheikh airport Friday, after a UK directive to leave the southern Sinai in light of evidence pointing to a bomb having brought down Metrojet Flight 9268 on Saturday. 
Britain suspended flights to the Egyptian-controlled airport Wednesday over the crash, which killed 224 people. 
Islamic State (ISIS) claimed responsibility for the crash, and while US officials have opined now that the most likely cause was a bomb, the UK has expressed concerns over the airport's poor baggage policies for ten months, the Telegraph reports - shutting down British flights to the popular resort region and initiating a crackdown. 
British agents will interrogate Egyptian baggage handlers over the crash, MI5 sources revealed overnight Thursday. 
Stranded
Meanwhile, 20,000 Britons already in the Sinai desert have been left scrambling for flights home - and 130,000 travelers set to visit the region over the winter months are questioning whether their trips will be cancelled. 
On Friday, just 4,000 people are scheduled to be brought home to the UK - and travelers were told late Thursday night that they would not be able to check luggage into the hold over security concerns. Baggage left behind will be left in the UK Embassy's jurisdiction and flown home by a UK government-supervised courier service. 
The situation has descended into chaos, after the few flights reinstated have been canceled. An EasyJet 'rescue flight' service to two separate London airports was cancelled at the last minute Friday afternoon, after Egyptian authorities banned the planes from leaving. 
"We're sorry to inform passengers that our rescue plans that were put in place yesterday have been suspended by the Egyptian authorities," they said in a statement.  "Discussions are currently on-going at the highest political level to resolve this situation. We are very sorry and understand that this is extremely frustrating for our passengers - unfortunately the situation is outside of EasyJet's control."
Photos have surfaced on social media showing dozens of British passengers sitting in the airport, waiting for further instructions. 
Security non-existent
British tourists revealed to UK media just how poor security is at the airport, with many noting that for the low price of £15 or £20, they were offered to skip security lines entirely. 
"We walked right through the security gates and security procedure, straight through the airport, avoided all the queues, and then he put the case on the conveyor belt and the girl checked us in," 47 year-old Dale Parkyn told Sky News. "At no point did my luggage go through any scanner."
"When I think now, it was bizarre."
Transport Secretary Patrick McLoughlin stated on a BBC morning show that the flight ban could extend to other countries in light of the incident. 
"What this makes clear - not just to the Egyptians but to other airports around the world: if we are concerned about their security we will not hesitate in taking the kind of action we have taken this week for the safety of British passengers," he warned Friday.