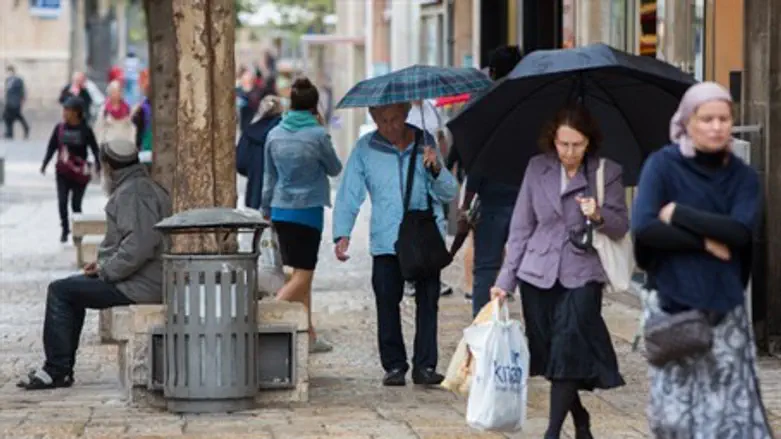 Rain, Jerusalem (illustration)
Yonatan Sindel/Flash90
Israel's sky-high air pollution is expected to weaken Friday due to rain, but haze will continue throughout most of the country. 
Localized and occasional rains are forecast from the north to the northern Negev areas Friday, at times accompanied by lightning, thunder and even hail. Flood warnings are in effect for the Dead Sea area and in coastal cities due to the onslaught. 
On Friday, highs will reach 22°C (71.6°F) in the Golan Heights; 25°C (77°F) in the Galilee; 22°C (71.6°F) in Haifa; 23°C (73.4°F) in Tel Aviv; 24°C (75.2°F) in the coastal region; 20°C (68°F) in Ariel and Samaria; 18°C (64.4°F) in Jerusalem; 24°C (75.2°F) in Be'er Sheva; 27°C (80.6°F) in the Dead Sea area; and 29°C (84.2°F) in Eilat. 
Rain will continue on-and-off throughout Saturday; on Sunday, the rain will get stronger throughout the north and center, with strong wind gusts and hail predicted for Sunday night. 
Rain will begin tapering off Monday, lingering in the north; Tuesday will see a drop in temperatures as the skies clear.