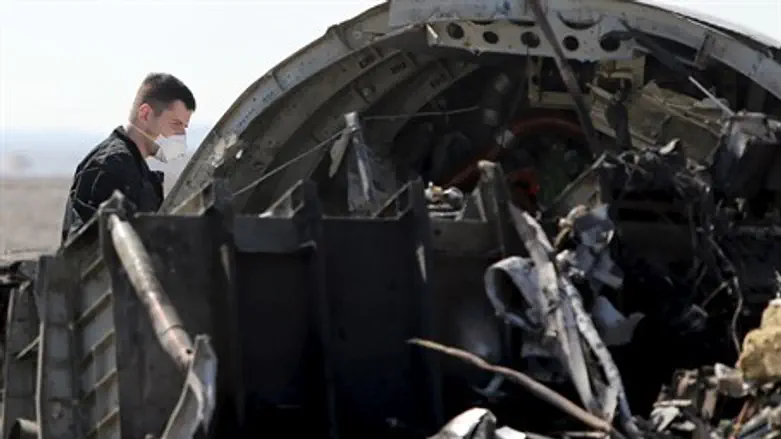 Russian investigator at site of A320-200 crash
Reuters
The latest U.S. intelligence suggests that this past Saturday's crash of Metrojet Flight 9268 was most likely caused by a bomb on the plane planted by the Islamic State (ISIS) or an ISIS affiliate, an official familiar with the matter told CNN on Wednesday.
"There is a definite feeling it was an explosive device planted in luggage or somewhere on the plane," the official said, stressing that no formal conclusion had been reached by the U.S. intelligence community.
The assessment was reached, the official told CNN, by looking back at intelligence reports that had been gathered before Saturday's plane crash and intelligence gathered since then.
The United States did not have credible or verified intelligence of a specific threat before the crash. However, the official said, "there had been additional activity in Sinai that had caught our attention."
Another official told CNN the intelligence regarding ISIS is in part based on monitoring of internal messages of the terrorist group. Those messages are separate from public ISIS claims of responsibility, that official said.
The Russian passenger jet crashed Saturday in Egypt's Sinai Peninsula after breaking apart in midair, killing all 224 people on board.
ISIS claimed responsibility for the crash shortly after it took place, but Russian officials originally downplayed that claim.
News of the American intelligence analysis came hours after British Prime Minister David Cameron's office said a bomb may have caused the crash.
"While the investigation is still ongoing we cannot say categorically why the Russian jet crashed," Cameron's office said in a statement.
"But as more information has come to light we have become concerned that the plane may well have been brought down by an explosive device," it added.
The British approximation comes a day after U.S. intelligence officials dismissed the possibility that a surface-to-air missile downed the plane, saying the idea is "off the table."
One official noted that, in Washington's estimation, what really downed the plane was a "flash or explosion" over the Sinai, adding that the plane disintegrated at a "very high altitude." 
CNN noted that no data has been recovered so far from the flight recorders, according to an official familiar with the investigation underway by the French Bureau d'Enquêtes et d'Analyses (BEA).
Responding to a CNN question about the British government's concern that an explosive device brought down the plane, the French official said "the teams are still working on the CVR and FDR, this information from the British government could not have come from a technical investigation. Nothing so far came out of the flight recorders."