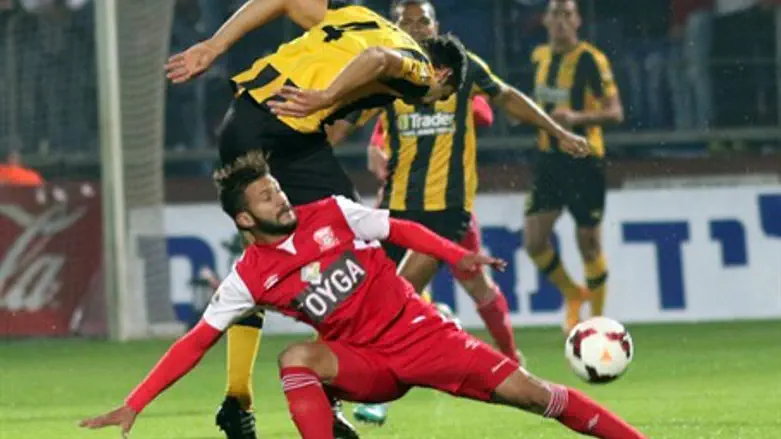 Soccer (illustration)
Flash 90
Arab terrorist Muhannad Halabi, who murdered two Israelis and wounded the wife and two-year-old son of one of them in a stabbing in Jerusalem's Old City in early October, is being given full hero treatment by the Palestinian Authority (PA).
The official PA daily announced on Monday that the Yasser Arafat Youth Center in Jenina, Samaria, has named a soccer tournament after the terrorist murderer, as revealed and translated by Palestinian Media Watch (PMW).
Under the headline "Bal'a Club wins the Martyr Halabi cup for football," the paper, Al-Hayat Al-Jadida revealed how the murderer is being lionized for young Arabs.
"The Martyr Yasser Arafat Youth Center (Al-Attara - Jenin) succeeded in organizing the first football tournament named after martyr Muhannad Halabi, which took place on its football fields. The final game was played by the Yasser Arafat Youth Center and Bal'a, which rightly won the title."
The newest gesture is just one of many the PA has made to honor the murderer. Last month, the PA city of Surda-Abu Qash named a street after him, with the mayor saying, "this is the least we can do for martyr Halabi."
PA Chairman Mahmoud Abbas's Fatah faction even brought soil from the Al-Aqsa Mosque on the Temple Mount to Halabi's grave, and the PA Bar Association granted him an honorary law degree. Several parents in Gaza named their newborn son after him.
In the attack, which took place on October 3, 19-year-old Halabi attacked 21-year-old Aharon Bennet along with his wife and 2-year-old son as they were on their way back from praying at the Kotel (Western Wall). Bennett was murdered, as was Rabbi Nehemia Lavi, who rushed to save the young family but was in turn ambushed by the terrorist, who then grabbed his gun and fired at approaching police, who shot him dead in return.