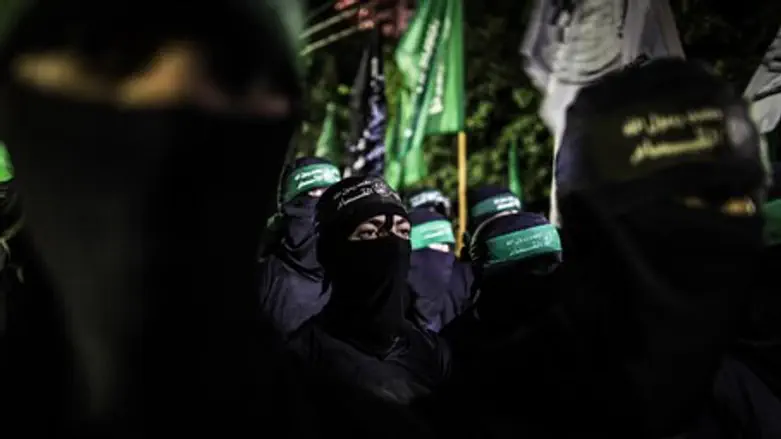 Hamas terrorists in Gaza
Emad Nassar/Flash 90
Hamas is demanding that Britain apologize for the 1917 Balfour Declaration, in which then-UK Foreign Secretary Arthur Balfour declared that Britain would support the establishment of a national homeland for the Jewish people in the Land of Israel.
In an official statement to mark 98 years since the declaration, Hamas' refugee affairs department said the declaration is now null and void, imposing full responsibility for its consequences on Britain, and demanding that it apologize, retract the declaration and admit it was a mistake.
"The path of our people towards freedom, return and liberation goes like the path of other peoples who were under occupation - through struggle by all methods and means, first and foremost an armed struggle," the statement said, adding that "the Palestinian people" are very close to achieving their objectives and called on international institutions to press Britain to apologize for the Balfour Declaration.
The Palestinian Authority's Culture Ministry also called on the British government to apologize for the "big crime" of the Balfour Declaration, "compensate the Palestinian people for the years of British and Zionist occupation of Palestine" and help the Palestinians establish a state on all "Palestinian land."
The demand for a British apology comes a day after a Hamas paper said that the "Al-Quds Intifada" which is what Hamas terms the current terror wave, has "killed" the Balfour Declaration.
"The city of Hevron and with it all the Palestinian cities declared the Al-Quds intifada, and all the sharpened knives struck the Balfour Declaration and killed it even before attacking the view of security and stability that the Jews hope for on this land, and against them the city of Hevron went out in tens of thousands at the end of October, to declare in the voice of the blood: the Balfour Declaration that was published in early November a hundred years ago is a worthless declaration, and this land is Arab...and will not be a homeland for the Jews," wrote Faiz Abu Shamalah in Hamas's Palestine newspaper.