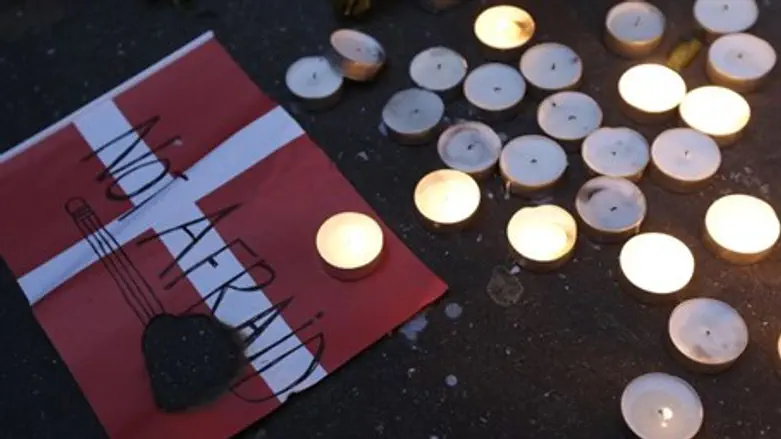 Candles in Copenhagen
Reuters
France's ambassador to Copenhagen, who in February attended a free speech event targeted by an Islamist terrorist, on Monday honored two Danish men who were killed in the twin attacks.
"We have a debt towards those who left us," Francois Zimeray said at a ceremony attended by Denmark's justice minister.
Filmmaker Finn Norgaard was posthumously bestowed with one of France's top cultural honors - the Chevalier des Arts et Lettres whose former recipients have included T.S.Eliot, Audrey Hepburn and Cate Blanchett.
Jewish security guard Dan Uzan was awarded a medal of courage by the French embassy in Copenhagen.
Norgaard was shot dead by gunman Omar El-Hussein on February 14 outside a free speech and blasphemy event hosting controversial Swedish artist Lars Vilks, who caused an outcry with his 2007 sketch of Mohammed as a dog.
"Some of us tried to escape through a backdoor," Zimeray said, adding that he had been sitting "not far" from the filmmaker.
But Norgaard "went in the opposite direction. He went where the powder smell and the noise came from. A few minutes after I saw him lying on (his) back," he said.
Volunteer Uzan was murdered hours later outside a Copenhagen synagogue, after which El-Hussein was killed in a shootout with police outside the assailant's home.
"Unfortunately there are many volunteer guards that stood and today have to stand guard around the world," Uzan's father Sergeot Uzan said, referring to the security threat against Jewish communities.
The Danish attacks mirrored the January attack against French satirical magazine Charlie Hebdo, which was followed by a hostage drama and four casualties at a Jewish supermarket.
Monday's ceremony was also attended by Latifa Ibn Ziaten, the Morocco-born mother of French paratrooper Imad Ibn Ziaten who was killed in March 2012 by Islamist terrorist Mohamed Merah in Toulouse.
Claiming inspiration from Al-Qaeda, Merah shot dead a rabbi, three Jewish children and three French paratroopers, before being killed during a stand-off with police at his home.
AFP contributed to this report.