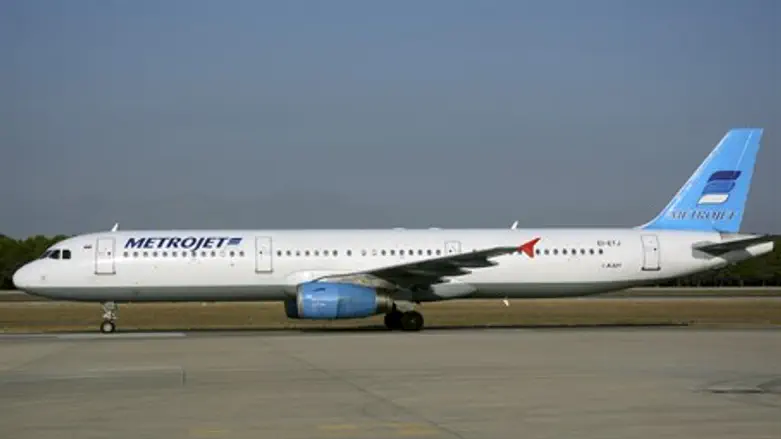 Metrojet Airbus A-321
Reuters
The Russian passenger plane that crashed in Egypt's Sinai Peninsula, killing everyone onboard, broke up at high altitude, Russia's top aviation official said Sunday, according to The Associated Press (AP).
The Metrojet plane, bound for St. Petersburg in Russia, crashed 23 minutes after it took off from Egypt's Red Sea resort of Sharm el-Sheikh on Saturday morning. The 224 people on board, all Russian except for four Ukrainians and one Belarusian, died.
A local jihadist ISIS-affiliate, "Sinai Province," claimed responsibility for the crash, announcing on social media that it had shot down the plane, but Russian officials said there is no evidence to support the claim.
Fragments of the plane were found scattered over a large area, indicating it disintegrated high in the air, Alexander Neradko, head of Russia's federal aviation agency, said Sunday.
Neradko, along with two Russian Cabinet ministers, were in Egypt inspecting the crash site in a remote part of the northern Sinai Peninsula, where Egypt is fighting an Islamic insurgency.
However, Neradko wouldn't comment on a possible reason for the crash, saying the probe was ongoing, according to AP.
On Sunday, an Egyptian ground service official who conducted a pre-flight inspection of the Airbus A321-200 said the plane appeared to be in good condition.
The Egyptian official, who spoke on condition of anonymity because he was not authorized to speak to the media, said he was a member of a technical inspection team that included two Russians.
"We are all shocked. It was a good plane. Everything checked out in 35 minutes," the official told AP. The closest the plane came to being in trouble, he said, was three months ago when the pilot aborted takeoff halfway through because of a system error.
"That's almost routine though," he said.
Russia's air safety regulator on Sunday ordered Moscow-based Metrojet to temporarily suspend flights. Rostransnadzor, Russia's transport safety watchdog, said Metrojet needed to thoroughly analyze the situation and weigh all risks before authorities decide on Monday whether to lift the suspension.
Meanwhile, Dubai-based Emirates, the Middle East's largest carrier, said Sunday it has stopped flying over Egypt's Sinai until more is known about the crash of the Russian airliner.
It joined two major European airlines, Germany's Lufthansa and Air France, that announced following the crash they would immediately stop flying over Sinai for safety reasons.