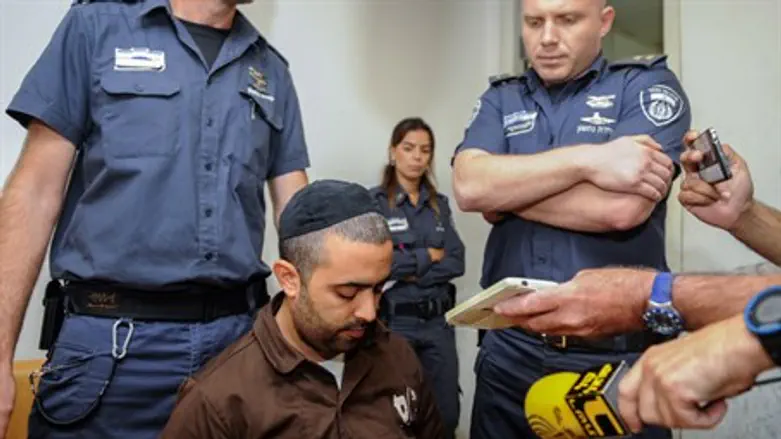 Shlomo Pinto, in court
Basel Awidat/Flash90
An indictment was filed Sunday morning with the Haifa District Court against Solomon Pinto for stabbing a Jewish man he mistook for an Arab at a Supersol grocery in Kiryat Ata. 
Pinto, 32, came to the shopping center armed with a Japanese knife and a hammer intending, the indictment alleges, to harm Arabs. 
According to the indictment, after the first man Pinto wanted to stab entered a bank, he continued to the Supersol grocery store. 
Pinto then apparently noticed one of the supermarket's employees - Uri Rizkin - and thought he was an Arab.
According to the indictment, Pinto studied his face for awhile, and, "after he was convinced he was an Arab," stabbed him several times in the back and waist. Pinto then chased after Rizkin as he attempted to escape.
Pinto's attorney, Yossi Gimpel, says that while the defendant admits the crime, it was not an attempted murder. "The facts are correct, but he did not intend to kill anyone. I hope we'll be successful in proving this to the judge."
Gimpel added that Pinto was very upset in light of the flurry of Arab terror attacks in the country: "It must be remembered that that same day and in the days before, there were several attacks with casualties in Jerusalem and Ra'anana. It was a very difficult atmosphere."
Haifa District Court Judge Yehiel Lifshitz extended Pinto's remand pending the verdict.