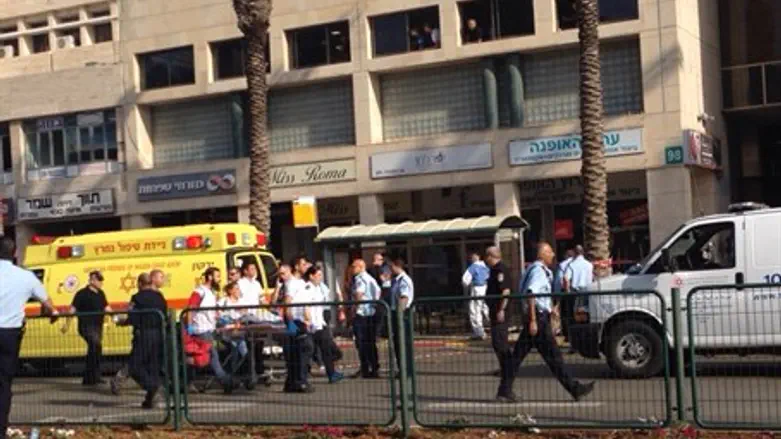 Terrorist carried away in stretcher after Raanana attack
Arthur Finkelstein
The Central District Prosecutor's Office filed an indictment to the Central District Court Sunday against Khalid Basti, 28, from Jerusalem, for attempting to kill Jews in a stabbing attack in Ra'anana earlier this month. 
Basti made the deliberate decision to murder Jews, the indictment states, hoping to become a "martyr." To do so, he took a paring knife, concealed it beneath his shirt, and traveled to Ra'anana's popular Jerusalem street to carry out the attack. 
He arrived at the station for the 34 bus, which was flooded with people - all of whom had their backs turned to him.
Basti then pulled the knife out and stabbed one of the commuters in the head, shoulder, and neck; the weapon broke due to the force of the blows. 
Undeterred, he then proceeded to beat three people with the handle of the knife, not realizing the blade had broken.
Three passersby were lightly wounded and a fourth victim was seriously wounded.
CCTV footage later caught the savagery of the attack, wherein Basti - seen wearing an orange T-shirt - can be seen calmly approaching his unsuspecting victims, and then running off. He was apprehended shortly after.