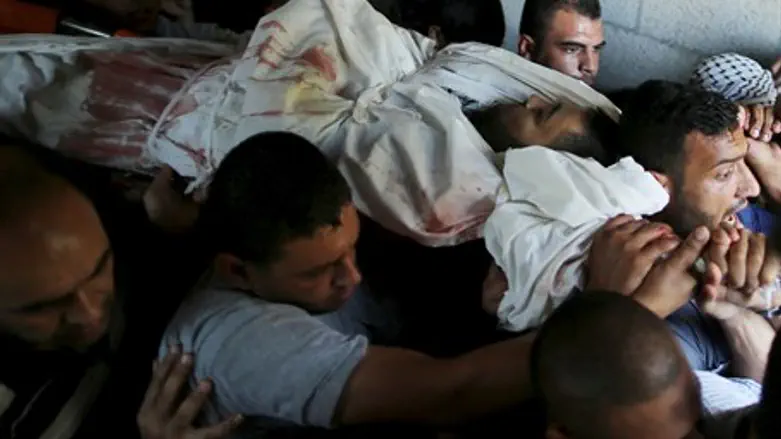 Funeral of Ahmed Al-Sarhi, of Al-Sabireen
Reuters
Iran has launched a new Shi'ite terrorist group in Gaza, in an apparent attempt to extend its regional hegemony in a similar fashion to its activities in Lebanon via its terror proxy Hezbollah - the new group even has the same emblem as Hezbollah.
Arab journalist Khaled Abu Toameh revealed details about the new terror group on Wednesday, in an article published on the Gatestone Institute website.
The new group, the Al-Sabireen ("Patient Ones") Movement For Supporting Palestine, which ran afoul of a nervous Hamas back in July, already has around 400 members in Gaza, reports Abu Toameh.
He noted that each member gets a monthly paycheck of $250-$300, while senior officials are paid at least $700 a month, all courtesy of Iran.
Al-Sabireen has been active in Gaza for several months, but it made its first major ripple two weeks ago when one of its top commanders, Ahmed Sharif Al-Sarhi, was shot dead by IDF snipers. Al-Sarhi had led a series of sniper attacks over the border before finally being taken down.
Abu Toameh quoted Palestinian sources who divulged that most Al-Sabireen terrorists are former members of Islamic Jihad who were recruited to the Shi'ite group.
They also revealed that Iran has been giving the group new weapons to attack Israel. Al-Sarhi was killed while trying to lethal employ a new Steyr HS .50 long-range sniper rifle he recently obtained from his Iranian backers.
Iran has also apparently given the group destructive Grad and Fajr missiles, which as the journalist notes are easily capable of reaching Tel Aviv.
A clash with Hamas and Islamic Jihad?
Hisham Salem, the leader of Al-Sabireen, was formerly a commander in the Islamic Jihad terror group before defecting to the Iranian Shi'ite terror proxy.
Abu Toameh reports that concern among Hamas and Islamic Jihad that Salem may steal their members has even led to attempts on his life.
"Two weeks ago, unidentified assailants stabbed and moderately wounded Salem shortly after he gave a newspaper interview in the northern Gaza Strip," revealed the journalist. "Although no group has claimed responsibility, it is widely believed that the assailants belong to either Hamas or Palestinian Islamic Jihad."
Salem is accused by many in Gaza of trying to help Iran spread Shia Islam in Gaza, which is overwhelmingly Sunni.
But Hamas and Islamic Jihad aren't the only terror groups being upstaged by the Iranian group.
The journalist revealed that Al-Sabireen is believed to have recruited dozens of terrorists from Palestinian Authority (PA) Chairman Mahmoud Abbas's Fatah faction in Gaza.
"These (Fatah) militiamen have gone to the Iranian-backed group mostly for financial considerations. This, of course, is bad news for Abbas, who is now watching as many of his former loyalists have come onto Iran's payroll and are sharing its radical ideology," he noted.
Iranian hegemony - where's Obama?
Abu Toameh posed that Iran apparently is taking advantage of US President Barack Obama's signs of disengaging from the Middle East so as "to meddle in the internal affairs of Arabs and Muslims."
"Iran's main goal, from all appearances, is to dominate the entire Middle East by destroying Israel and most of the Arab and Islamic regimes that are considered too 'moderate' and 'pro-West.' So far, thanks to the indifference of the Obama Administration and most Western countries, the Iranians seem to be marching in the right direction toward achieving their goal," he wrote.
Al-Sabireen was established due to tensions between Iran on one side and Hamas and Islamic Jihad on the other, after the two terror groups refused to openly support Iran's ally Bashar al-Assad in Syria.
Since then the two groups have had their money sources cut off by Iran, the leading state sponsor of terror, which has sent them into their worst financial crisis in decades.
"It now remains to be seen whether the Obama Administration and other Western powers will wake up and realize that the Iranians are continuing to fool them, not only regarding Tehran's nuclear program, but also concerning its territorial ambitions in the Middle East," wrote the journalist, noting that, "Iran's Al-Sabireen group states that its main goal is to 'eliminate the Zionist entity.'"
"On its way to achieving its goal, the group will also kill Arabs and Muslims who do not share its objectives and ideology. It also seeks to kill Israel's Western friends, especially those living in the U.S. and Europe. Unless the U.S. and Western powers realize that Iran remains a major threat to world peace, Al-Sabireen and other terrorist groups will one day manage to establish a UN-recognized Palestinian state that would pose an existential threat to Israel and destabilize the entire Middle East."