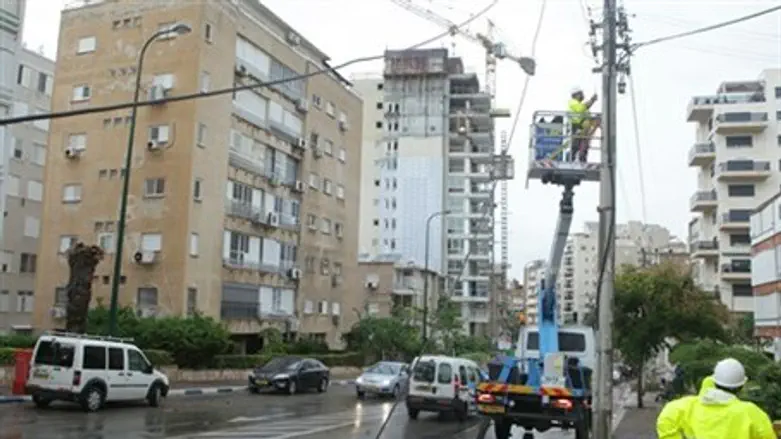 IEC workers in Netanyahu
Yossi Weiss
A full three days after the flash storm that hit central Israel Sunday morning and knocked out large parts of the electrical grid, the Israel Electric Company (IEC) reported Wednesday morning that power has been restored to all but a few customers.
The unusually harsh weather, in Israeli terms, included rain, large-sized hail and winds of up to 100 kph (62 mph), which caused trees, cranes, billboards and electrical poles to fall, and disconnected power cables.
Most of the outages were in the Sharon area northeast of Tel Aviv, including Raanana, Kfar Sava, Herzliya, Netanya and surrounding communities. About 200,000 homes were without power at the peak of the storm.
The mayors of relatively affluent Raanana and Herzliya sent a letter to Prime Minister Binyamin Netanyahu Tuesday and demanded that a governmental committee of investigation be set up to study the causes of the emergency.
"The tens of thousands of residents who have been knocking on our doors in distress, and we along with them, have lost faith in the Electric Company," they wrote.