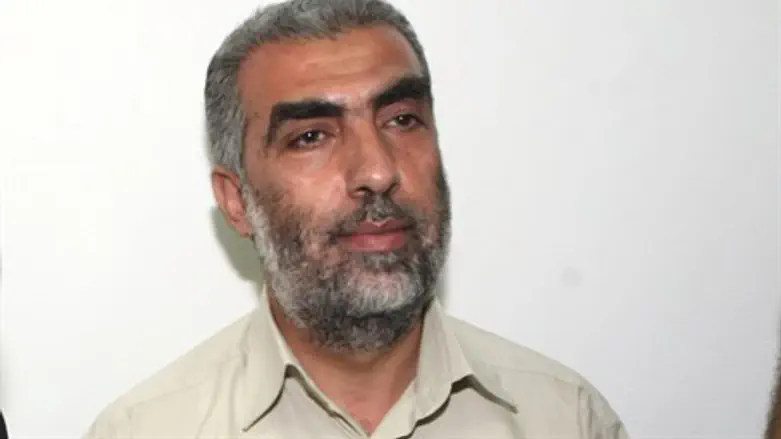 Sheikh Kamal al-Khatib
Matania Tausig/Flash 90
The notorious head of the extremist Islamic Movement, Raed Salah, may have just been sentenced to jail for incitement, but that hasn't stopped his deputy from continuing to urge Muslims to carry out terrorist attacks against Israel.
In an interview with Hamas's Palestine magazine published on the eve of the verdict against Salah, deputy leader of the Islamic Movement's Northern Branch Sheikh Kamal al-Khatib openly called for Israeli Arabs to take part in the "intifada" against Israel.
The Islamic Movement is essentially the Muslim Brotherhood's arm in Israel, and has close links to Hamas. Raed Salah has previously been convicted for fundraising for Hamas.
Al-Khatib told his interviewer that in his view the recent deal signed between Israel and Jordan to install CCTV cameras to monitor the "status quo" on the Temple Mount is "very dangerous."
The deal has been lamented by Jewish Temple Mount groups as essentially cementing discriminatory policies against Jewish prayer at the site and giving in to Islamist demands. But al-Khatib claimed that by also allowing Israeli police to monitor Muslim extremists who harass Jews and attack security forces on the holy site, the measure "strengthens Israeli political sovereignty" in Jerusalem.
The Islamist cleric further claimed that the United States was interested in ending the "intifada" in order to strengthen Israel's position and allow it to continue its policies in Jerusalem.
"Instead of the silent position of the Palestinians and Arabs, it is fitting to support the intifada in order to achieve its goals," al-Khatib said. "We are obligated to support the intifada in order to force a new reality in Jerusalem and on the Al Aqsa plaza."
Like Salah, al-Khatib was recently slapped with a travel ban by Israeli authorities, as law enforcement agencies mull criminal charges over the role the pair and their organization have played in stoking ongoing Arab violence against Jews.
The Islamic Movement is widely believed to be behind a series of violent riots and a number of stabbings and attempted stabbings by Israeli-Arabs, though police say most of the Israeli-Arab public are wary of taking part in more violence given the economic backlash by Jews opting to boycott their businesses in response.
Prime Minister Binyamin Netanyahu has vowed to outlaw the Islamic Movement, but he and other ministers have blamed legal barriers for delaying a ban so far.