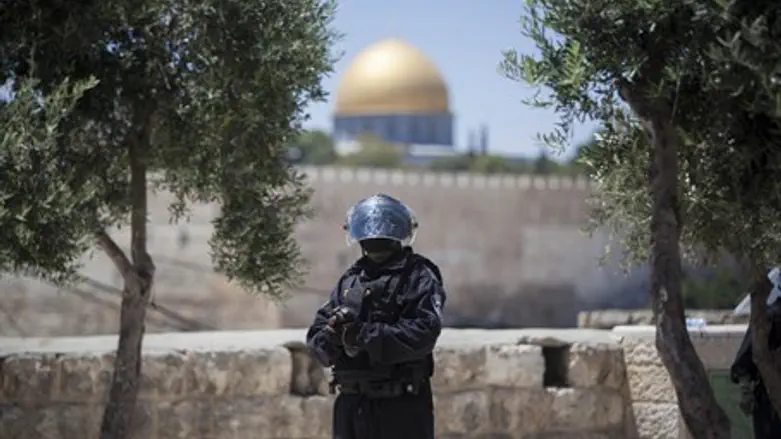 Police officer stands guard near Temple Mount
Yonatan Sindel/Flash 90
Israeli police said they have lifted age restrictions for the main weekly prayers at Jerusalem's Temple Mount compound on Friday, for the first time in weeks.
"For the moment, no age limitations on worshippers' entry," a police spokeswoman said in a statement.
The restrictions on male worshippers, aged under 40, 45, or 50, have been imposed on and off since September, as radical Islamists have been continuously holding violent riots on the Temple Mount since the Rosh Hashanah holiday.
Their lifting comes after a flurry of diplomatic activity aimed at reducing tensions that have led to a flare-up of deadly violence this month.
Palestinian Authority (PA) officials, including chairman Mahmoud Abbas, have blamed Israel for the riots and have accused it of trying to change the "status quo" on the Temple Mount, whereby Muslims are allowed to pray at the site while Jews are not.
The police's decision is expected to draw ire from Jewish MKs, who were banned from even visiting the Mount. At least one minister, Agriculture Minister Uri Ariel, has implied that he will resign from his post in the event the restrictions are not lifted. 
AFP contributed to this report.