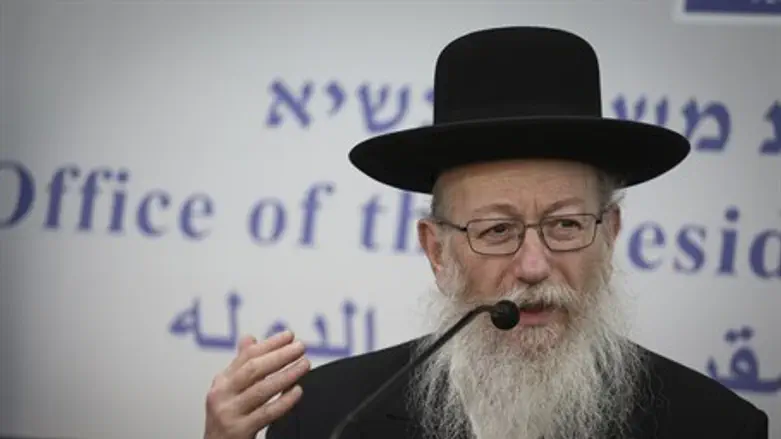 Yaakov Litzman
Hadas Parush/Flash 90
Health Minister Yaakov Litzman's plan to make it easier for Israelis to obtain medical marijuana is set to be enacted in the coming days, Army Radio reported on Thursday. 
According to Army Radio, Litzman's plan to sell medical cannabis in pharmacies, as well as an expansion of the conditions for which it could be prescribed by doctors, has received initial Health Ministry approval.
Although Litzman is Health Minister, such plans must be approved by a professional medical board, and such approval was received this week, the report said. Sources said the plan would be completed and given final approval in the coming weeks.
The plan received was greenlit by the Knesset Subcommittee on Drugs in July. According to the plan, specialists will be allowed to prescribe marijuana for medicinal purposes.The cannabis will be sold at drugstores, available with a prescription.
Currently, medical marijuana is available only at a limited number of special centers around the country, and demand often outstrips supply. All cases requiring medical marijuana must be presented before a Health Ministry committee, which has the final word on who is eligible to receive the marijuana.
In addition to making it more available, the plan will relax the circumstances under which patients can be prescribed the drug, expanding the list of conditions and diseases that marijuana can be used to treat.
MK Shelly Yechimovich (Zionist Union), a member of the committee, said that "Cannabis is sometimes the source of hope and healing when all other medicines have failed," for conditions including "convulsions, Parkinson's, severe pain, depression and dangerous loss of appetite with patients in serious condition."
Some 11,000 Israelis are currently being treated with medical marijuana.