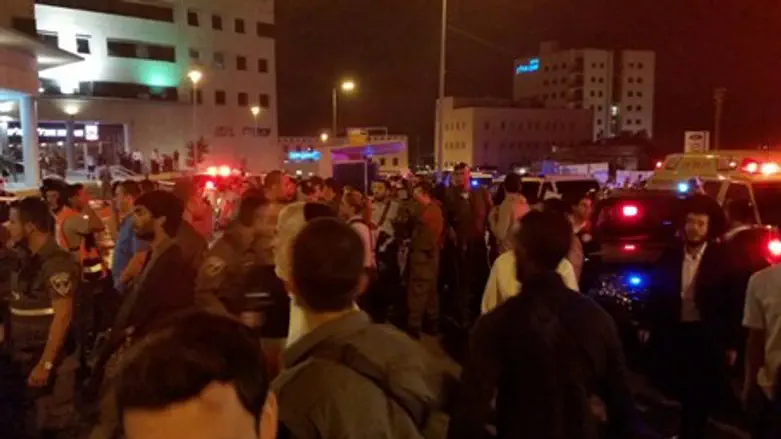 Scene of mistaken terror attack
Avraham Tzemach, Medabrim Tikshoret
The security tension in Israel resulted in a tragedy on Wednesday evening: A man was shot dead near the offices of the United Hatzalah rescue services in Jerusalem after he was mistaken for a terrorist.
Eyewitnesses say the man, who it is believed was Jewish and mentally unstable, confronted two security guards as he tried to board a bus, and then attempted to grab a weapon from one of them before being shot.
There were no other victims in the incident.
United Hatzalah Director Zeev Kashash said, "I was at a meeting at the offices of United Hatzalah and heard gunshots. Together with other volunteers we went out and miraculously there were no casualties. "
"Passersby said that it was an attempt to steal a gun from a soldier who was at the bus stop near the offices of United Hatzalah and subsequently fire was opened toward him and he was neutralized," he added.
ZAKA chairman Yehuda Meshi Zahav, who was at the scene, said, "I came with a ZAKA team to the scene of the alleged attack, and at first we thought it was a 'routine' stabbing attempt and the terrorist was killed. I asked to cover the body in a black bag. Once I was asked to take care of the body, I saw that it was a mistake and that the body belonged to a Jew and that it was not a terrorist."
"I immediately informed the police and we changed the bag from a black back to a white bag. We are in times of terror and rush to the scene of every attack. In Be'er Sheva there was a mistake and an innocent man was killed and today a life was taken because of mistaken identity. I appeal to all gun owners to act with more discretion," added Meshi Zahav.
Video by Avraham Tzemach, "Medabrim Tikshoret"