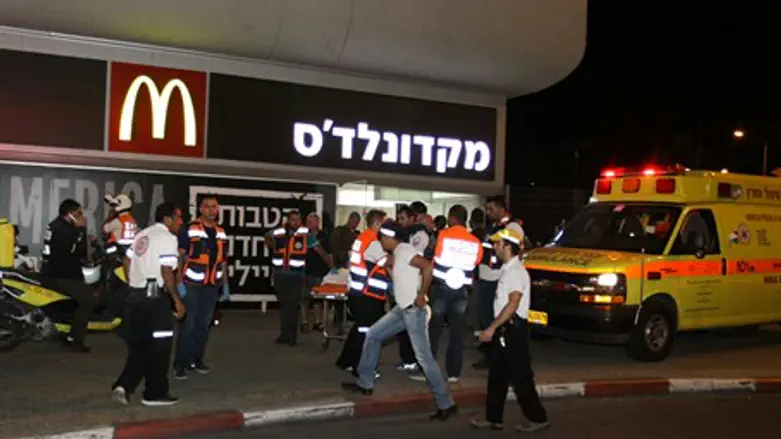 Scene of Be'er Sheva attack
Meir Even Haim/Flash 90
Israel Police said they arrested four Israelis Wednesday over the "lynching" of an Eritrean immigrant shot and then severely beaten after being mistaken as the perpetrator of a terror attack.
Haftom Zarhum, 29, was shot by a security guard at a bus station in the southern city of Be'er Sheva on Monday after being mistaken for a terrorist in an attack that killed an Israeli soldier.
"Four Israelis suspected of participating in the lynching.... in Be'er Sheva have been arrested, and more arrests are expected," a police statement said, adding that the four would go before a judge on Thursday. 
Public radio said two of them work for the prisons system.
Zarhum's autopsy ruled he died of gunshot wounds, rather than the beating he received from bystanders who mistook him for a terrorist as he lay shot on the ground.
His death comes in the middle of a surge of violent terror attacks across Israel, in which eight Israelis have been killed. 
Following Zarhum's death, Prime Minister Binyamin Netanyahu publicly called on Israelis not to take justice into their own hands.
AFP contributed to this report.