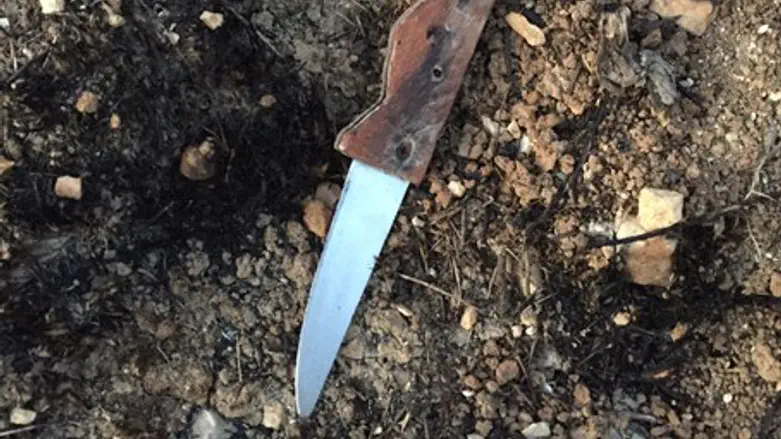 Knife used by failed Yitzhar terrorist
Shomron Regional Council - Security Department
Samaria Regional Council Head Yossi Dagan on Wednesday morning said the thwarted infiltration attempt by a female terrorist into Samaria's Yitzhar the night before represents a steep escalation in terror in the region.
The regional leader noted that an incident of this sort, involving an armed terrorist infiltrating into a community, has not been witnessed for a long time in the area.
He contacted IDF Samaria District Commander Shai Kalper to thank him for the IDF's quick action in responding to calls after the knife-wielding 15-year-old terrorist was spotted, locating her and then shooting her.
"The town's security squad together with IDF soldiers worked in an incredible manner," said Dagan. "I thank the IDF soldiers and their commanders, and together with them the Yitzhar residents who are members of the security squad, for the professional actions that tonight thankfully saved lives."
Speaking about the attack attempt, Dagan added that the terrorist likely gathered information from Arab olive harvesters who in recent days have been lurking around the town, and used that info to ease her infiltration into Yitzhar.
In recent days intelligence data has been received indicating that Palestinian Arabs have been arriving in the vicinity of the town to seemingly harvest olives, while in fact they have been checking the security mechanisms of the local towns so as to be able to attack them.